"Windows Mail" Program for Vista
This page is obsolete.
It contains instructions for setting up a discontinued program called "Windows Mail for Vista" that has not been updated in many years. If you're looking for a free mail program to use instead, Mozilla Thunderbird is a good choice.
This page explains how to set up the "Windows Mail" email program that comes with Microsoft Windows Vista to send and receive email for a mailbox that you've created.
To avoid confusion, we should mention that "Windows Mail" is the actual name of the mail program that comes with Windows Vista, not a generic phrase meaning "any email program on Windows Vista". If you're setting up another mail program on Vista, such as Outlook, Outlook Express, Windows Live Mail, Eudora, or Thunderbird, follow the instructions for that program instead of continuing on this page.
These instructions are based on Windows Mail version 6.0, which is the version that comes with Windows Vista.
Before you continue, you should enter your email address (the address you want to set up in Windows Mail) in the box above. Entering your email address makes sure that the instructions below are correct.
1. Start Windows Mail
Start the Windows Mail program from your Start menu. If you do not have any mail accounts defined yet, the Internet Connection Wizard will automatically begin and will display the Your Name window. If this happens, continue with step 4 of these instructions.
2. Begin adding a new email account
Open the Tools menu and choose Accounts.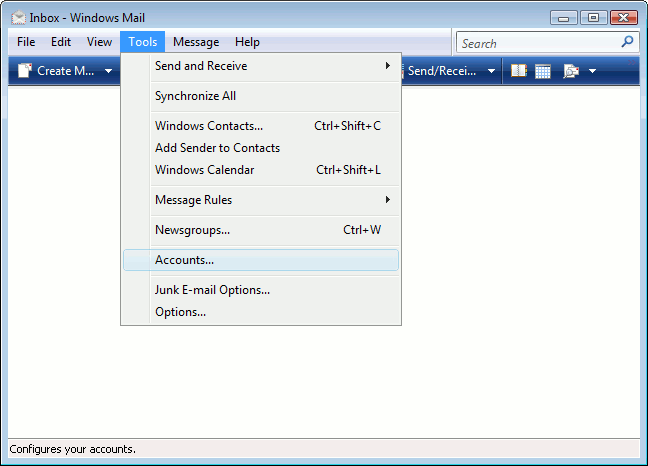 The Internet Accounts window opens. Click Add.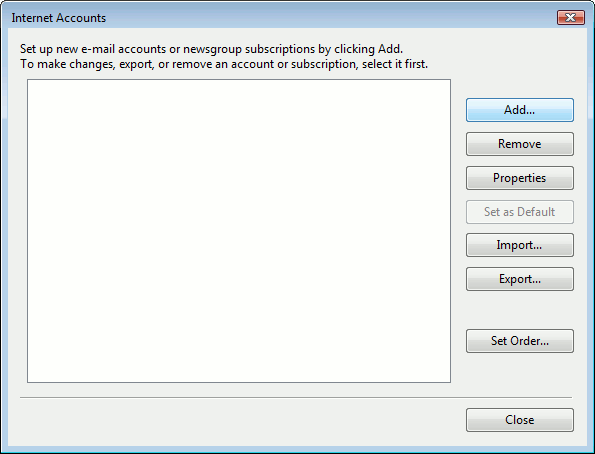 3. Choose to define an email account
When prompted to select the type of account to add, select E-mail Account, then click Next.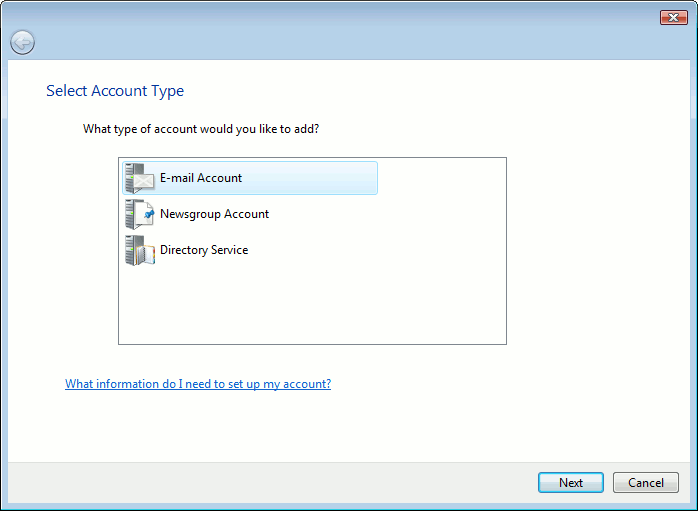 4. The Your Name window appears.
The wizard asks for your name. This is the name that other people will see when you send them email. It should usually be your real name, such as John Smith or Joan of Arc.
Enter the name you want other people to see when you send them email, then click Next.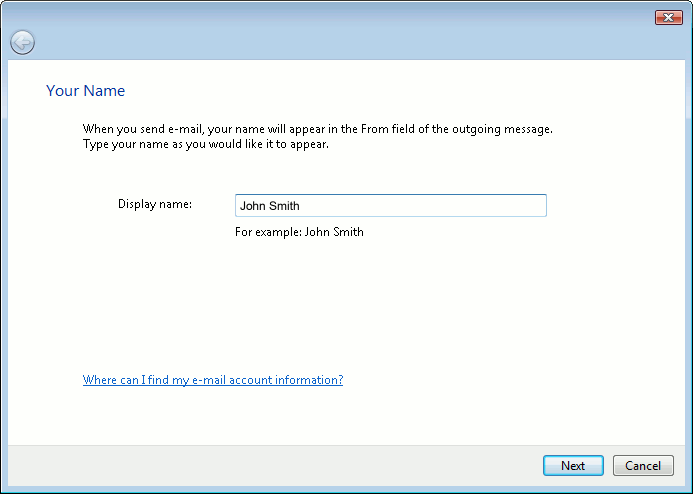 5. The wizard asks for your Internet E-mail Address.
Enter your email address, then click Next. The address must be the email address of the POP mailbox you created in your account management control panel. Be sure to enter your full email address, including the initial name part, the @ sign, and the domain name.
6. The wizard asks for your E-mail Server Names.
Leave the server type as POP3 and type mail.tigertech.net as the name of both your incoming and outgoing server. Check the Outgoing server requires authentication checkbox, then click Next.
7. The wizard asks for your Internet Mail Logon.
Your logon is your email address and password.
Type your email address as your account name. (The account name must be all lowercase.) Be sure to enter your entire email address, including the initial name part, the @ sign, and the domain name.
Type your email password, which is the password you chose for this email address when you created the mailbox in your account management control panel. (This password may be different from your master account password.)
If you wish, check the Remember password box so you don't have to type it each time you send or receive email.
Click Next when finished.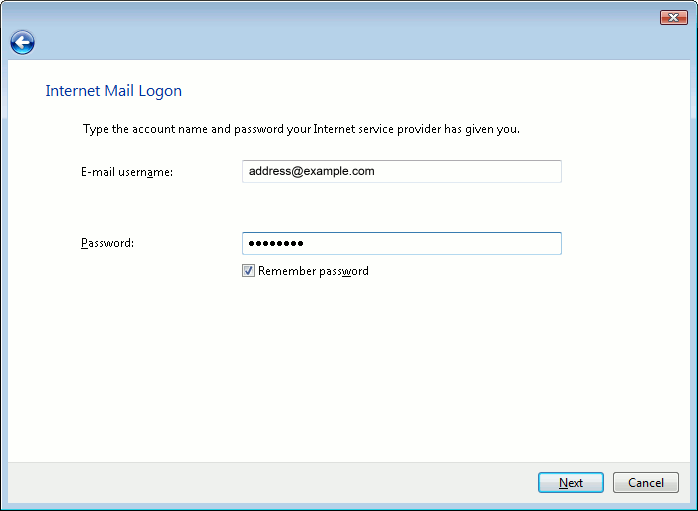 8. The final screen of the wizard appears.
Check the Do not download my email at this time checkbox, then click Finish.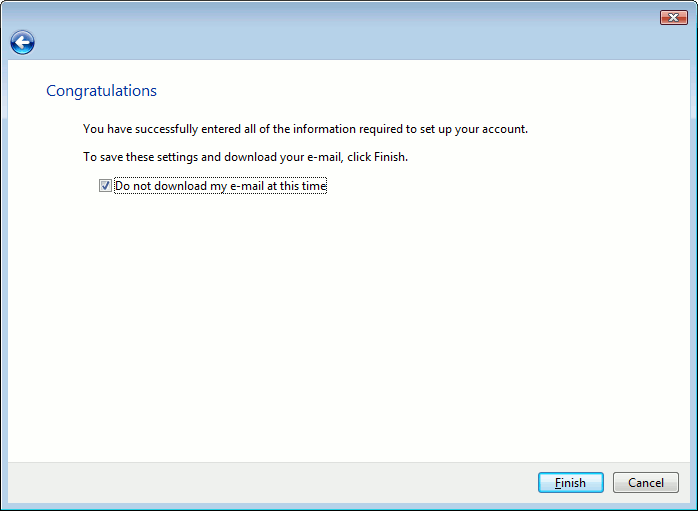 While the wizard has collected the basic information needed to receive email, a couple of other changes are needed to make sure that you can send mail. Continue with the steps below to finish setting up Windows Mail.
9. Open the Properties window for your new account.
The Internet Accounts window should still be open. (If not, you can open it by choosing the Accounts command from the Tools menu.)
Highlight your email account and click Properties.
10. The Properties window appears.
Click the Servers tab and check My server requires authentication.
You don't need to click Settings; the default settings are fine. Also, note that you should not check Log On Using Secure Password Authentication.
The window should look like this: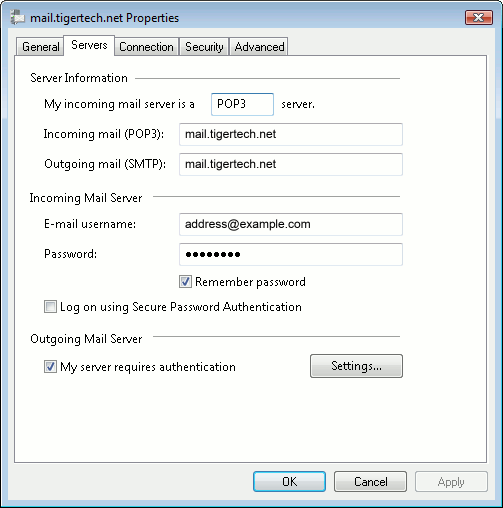 11. Change the SMTP port number.
Changing the SMTP port number ensures that your ISP will not block outgoing mail connections to our mail servers.
Click the Advanced tab.
Change the Outgoing mail (SMTP) port number from 25 to 587.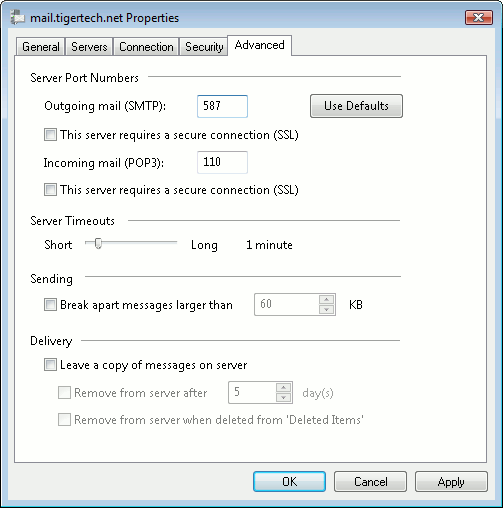 If you use more than one method to read your email (for example, if you read mail on more than one computer, or if you sometimes read email using our Webmail pages as well), you should also check Leave a copy of messages on server, setting it for at least a few days. This makes sure that mail you read in Windows Mail will be seen by the other computer or Webmail.
12. Close the setup windows.
Click OK to close the Properties window, then click Close to close the Internet Accounts window.
Setup is complete
You're finished! Try sending yourself a test email message to make sure it works.
Optional additional steps: secure SSL connections and leaving copies of mail on the server
Some customers may also wish to turn on secure SSL connections in Windows Mail. This makes email connections more secure, but may not work on some computers. If you want to do this, see the topic Secure SSL Connections for Windows Mail for Vista for more information.