How do I make Windows Mail for Vista leave a copy of my messages on the server?
This page is obsolete.
It contains instructions for a discontinued program called "Windows Mail for Vista" that has not been updated in many years. If you're looking for a free mail program to use instead, Mozilla Thunderbird is a good choice.
With Windows Mail it's possible to leave a copy of each message on the mail server after you read it.
You'll want to do this if you read email in Windows Mail and another program (or our Webmail system). If you don't set up Windows Mail to leave your messages on the server, it will delete the messages as soon as it connects to read mail, and the other program (or Webmail) won't be able to see the messages.
You can also do this if you want your old incoming mail to be permanently stored in our backup system (see "E-mail backups" on our backup policy page for more details).
This page explains how to set up Windows Mail to leave a copy of each message on the server. It assumes that you have already followed the basic instructions to set up Windows Mail.
Changing the Windows Mail settings
To leave messages on the server, you will:
Open the Advanced settings window for your mail account
Check the Leave a copy of messages on the server checkbox
1. Start the Windows Mail program from your Start menu.
When Windows Mail opens, click Tools, then Accounts from the menu bar.
2. The Internet Accounts window appears.
Highlight the email account you wish to change and click Properties.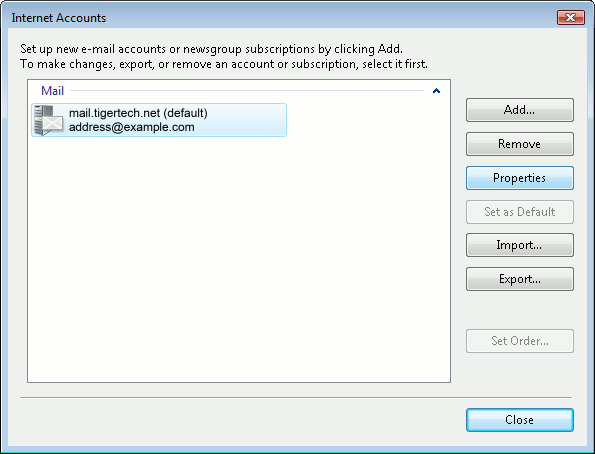 3. The Properties window appears.
Click the Advanced tab, then check the Leave a copy of messages on server checkbox.
To make sure copies of every message don't stay on the server forever (which can slow down your mail connections and use up your disk space allowance), we also recommend checking the box marked Remove from server after X days. Choose a number of days that's long enough that you'll be able to read the messages in your other mail program (or Webmail). Even using a large number (like 100 days) is better than not checking this box.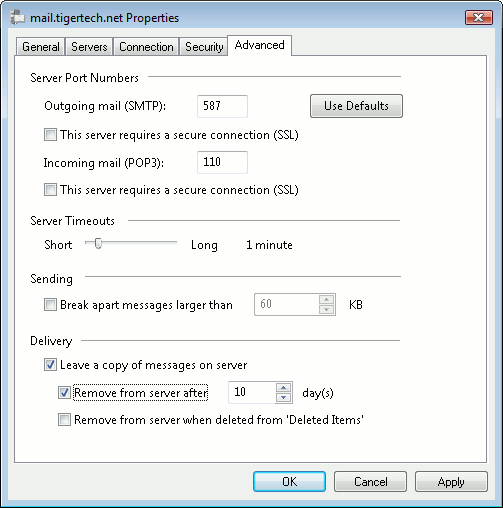 4. Close the setup windows.
Click OK to close the Properties window, then click Close to close the Internet Accounts window.
Windows Mail setup is complete
You're finished! From now on, any mail that arrives should stay on the server, and you should be able to see it in your other mail program or Webmail. (If you're using another mail program, you'll probably want to setup that program to leave a copy of your messages on the server, too.)