Eudora
This page is obsolete.
It contains instructions for setting up a discontinued program called "Eudora" that has not been updated in many years. If you're looking for a free mail program to use instead, Mozilla Thunderbird is a good choice.
This page explains how to set up the free Eudora email program to send and receive email for a POP mailbox that you've created. You can download Eudora from www.eudora.com.
These instructions are based on Eudora 6.2 for Windows, although other versions are similar.
Setting up Mail
The correct instructions depend on whether you already have an existing account in Eudora.
As a first step, start Eudora. If you don't have an existing account, it will display a wizard window that looks like the one below.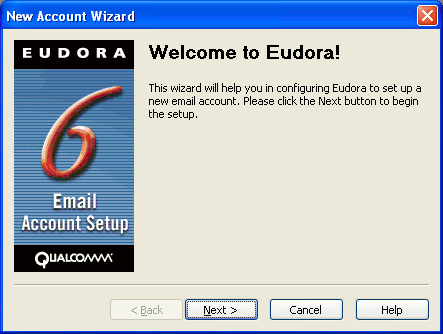 If you see this window, click Next and continue to Adding a Eudora Mail Account.
If you do not see this window, continue to Starting the Eudora Wizard.