Starting the Eudora Wizard
This page is obsolete.
It contains instructions for a discontinued program called "Eudora" that has not been updated in many years. If you're looking for a free mail program to use instead, Mozilla Thunderbird is a good choice.
These instructions explain how to start the new account wizard in Eudora. This allows you to add additional email accounts.
Locate the "Persona" window in the top-left of the main Eudora window. (If the "Persona" window is not visible, choose Personalities from Eudora's Tools menu to show it.)
The "Persona" window shows your existing accounts. Right click in the white space below the existing accounts, making sure you do not click on an existing account. Select New from the menu that appears.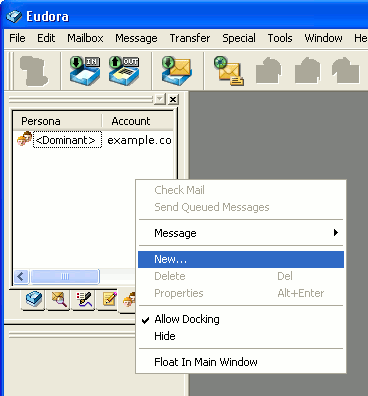 This will start the account wizard, and you can proceed to Adding a Eudora Mail Account.