Microsoft Outlook
This page explains how to set up the Microsoft Outlook e-mail program to send and receive e-mail for a mailbox you've created.
Be sure that the program you are using is Microsoft Outlook, and not Microsoft Outlook Express. These two similarly named programs have different set up instructions. If you see the word "Express" on the screen when you start the program, you're using Outlook Express, and you should see the Outlook Express instructions instead.
Still with us? Click on the version of Outlook you're using to see the exact instructions for your program:
(Note that like most ISPs, we do not support Outlook 97 or earlier, because it does not allow "authenticated SMTP".)
Finding your Outlook version
If you're not sure which version of Outlook you're using, there's an easy way to tell.
When Outlook is running, click the Help menu if you see one, then choose About Microsoft Outlook: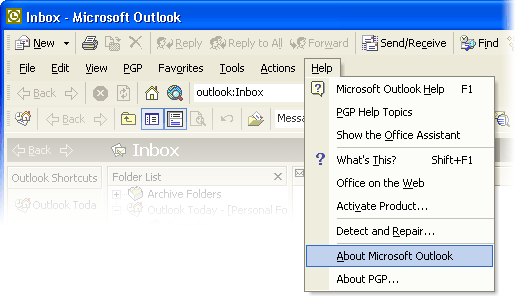 The version of Outlook you are using will be shown at the top of the window that appears. For example, this is Outlook 2002:

If your version of Outlook doesn't have a Help menu at all, but instead has "tabs" like this, you have Outlook 2010 for Windows or Outlook 2011 for Mac: