Movable Type Blog Software
This page explains how to set up the free version of the Movable Type blog software on your website and configure your first blog.
Note that Movable Type is more difficult to configure than the other popular free blog program, WordPress. If the instructions below seem difficult, or if you have any trouble, we recommend that you give WordPress a try.
These instructions are based on Movable Type 4.25, although other versions are similar.
1. Getting Movable Type
First of all, download the most recent version from http://www.sixapart.com/movabletype/pricing.
Select the Blogger version that does not come with support and download the .zip version.
2. Creating a MySQL database
Movable Type uses a MySQL database to store the blog entries. We recommend creating a new database specifically for Movable Type. To do this, follow our instructions to create a MySQL database.
There is no specific format that you must follow when naming the database. We are assuming that the name is "mtexample" — if you use a different name, just type that name instead of "mtexample" when following the instructions below.
3. Uploading the files
Connect to your website using FTP. Check to see if there is a directory (folder) named cgi-bin; if not, use your FTP program to create one.
Go into the cgi-bin directory and create a new directory named mt.
Upload everything except the mt-static folder into the "mt" directory that you created.
Finally, upload the mt-static folder and its contents to the top level of your website.
4. Checking the permissions
Use our script checker to check the "permissions" for the scripts in the cgi-bin/mt/ folder. If any scripts need fixing just click the Fix Script button for each one.
5. Running the installation script
Open the "/cgi-bin/mt/mt.cgi" address in your Web browser.
The following page should appear: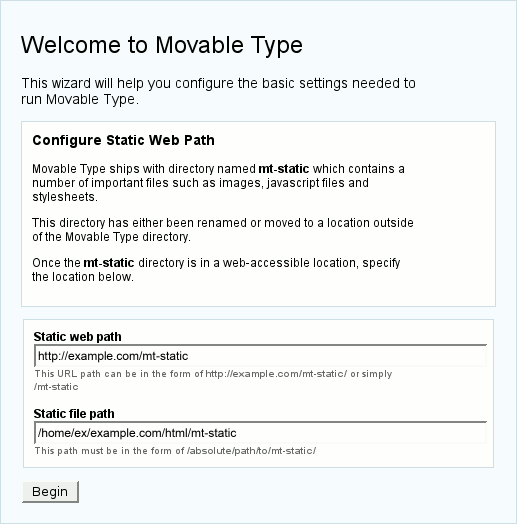 Enter the following details:
Static web path: http://example.com/mt-static
Static file path: /home/ex/example.com/html/mt-static
Click Begin.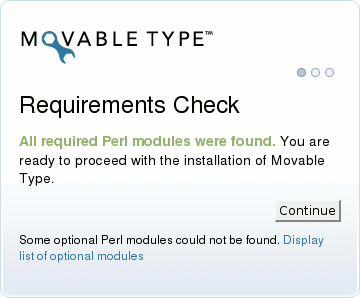 Click Continue.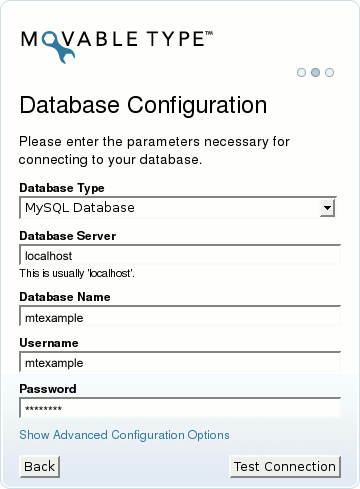 Enter the following details:
Database server: localhost
Database Name: mtexample
Username: mtexample
Password: your database password
Click Test Connection.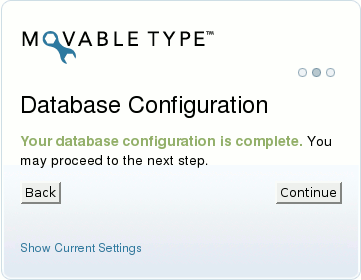 Click Continue.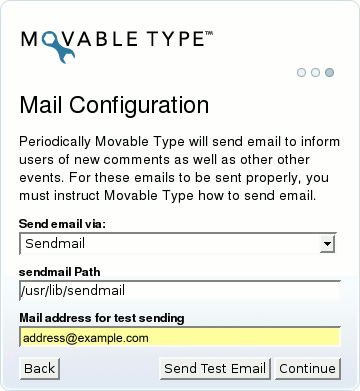 Choose to Send email via Sendmail and leave the default sendmail Path as shown above.
Enter your email address and click Send Test E-mail, you should receive an email messages.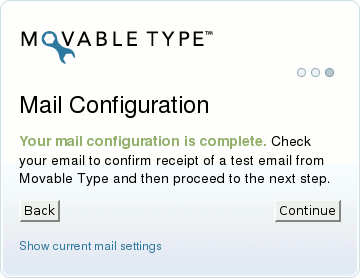 Click Continue.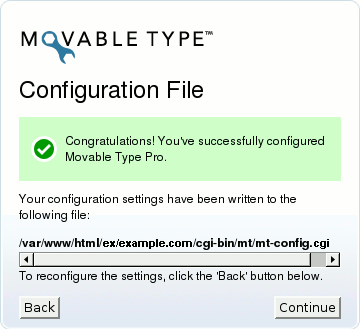 Click Continue.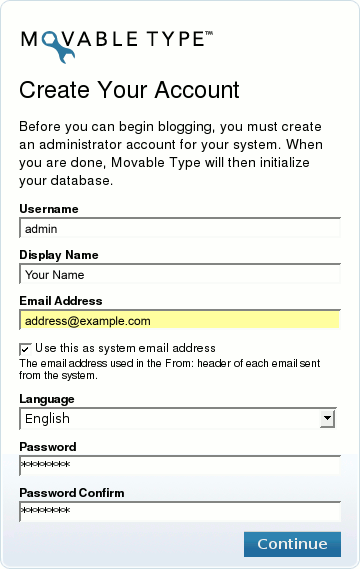 Choose a Username, a Display Name and an E-mail address for the account administrator. Then click Continue.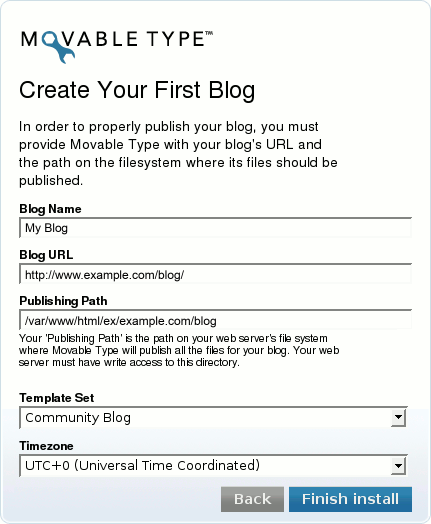 Choose a directory to install your blog into. We'll assume the blog is put into a folder called blog. However you could call this anything you like, or even install the blog at the top level of your website.
If the directory does not exist, the installation script will create it. If the directory does exist, then the script will install the blog files into it: take care not to overwrite existing files. We recommend installing the blog into a new directory.
Enter the following details:
Blog URL: http://www.example.com/blog/
Publishing Root: /var/www/html/ex/example.com/blog
Click Finish install.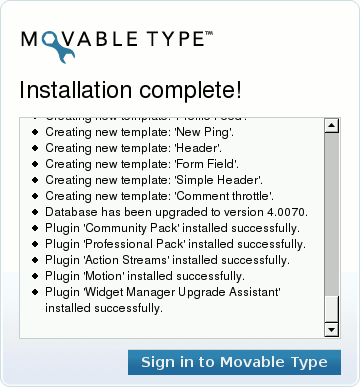 Click Sign in to Movable Type to enter the admin area. You can also click on the following link below and bookmark this for future use:
You've created a blog!
As soon as you create your first post or page you will be able to view your blog at http://www.example.com/blog/ (or the different location you chose above).