Setting the Outgoing Port in Apple Mail 2.1
This page is obsolete.
This page shows instructions for an old version of the Mac OS X "Mail" program that is not included with new Mac computers. Unless you have an older Mac with Mail version 2.1, you probably want to read the "Verifying Apple Mail POP Settings" page instead.
These instructions assume you've already set up an email account in the Mac OS X "Mail" 2.1 program and you want to verify the outgoing mail "port number".
Using the correct port number makes sure your outgoing mail won't be blocked in the future. It's especially important for laptop computers that use different wireless networks when traveling. Many hotels and ISPs will block outgoing mail if you don't follow these instructions.
1. Start the "Mail" program.
If the Mail program isn't already running, start it now.
2. Open the "Preferences" window.
Using the menu bar at the top of the screen, click Mail, then Preferences: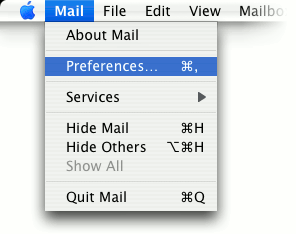 The "Accounts" window will appear.
3. Choose the "Account Information" screen.
Navigate to the "Account Information" screen shown below: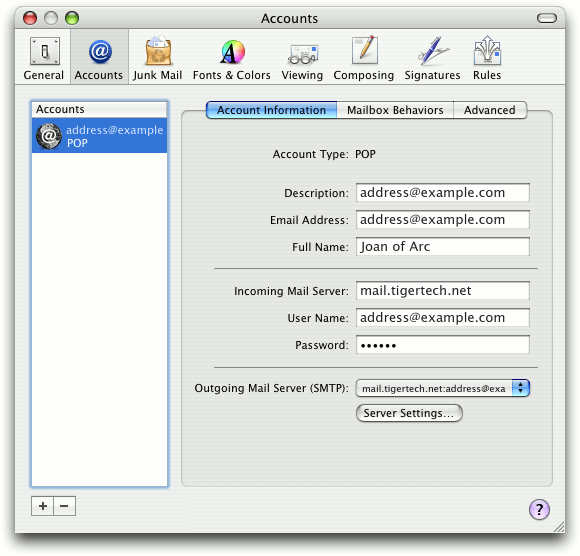 To do this:
Click Accounts (the blue "@" sign) along the top of the window if necessary.
Click the address@example.com account in the left "Accounts" column if necessary.
Click Account Information if necessary.
4. Open the outgoing "Server Settings" window.
Click the Server Settings button: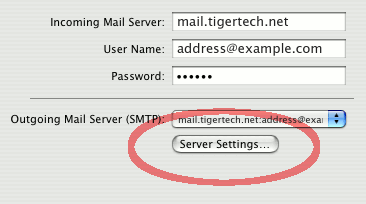 The outgoing mail settings window will appear.
5. Make sure the "server port" is "587".
If necessary, change the "server port" to 587, so it looks like this: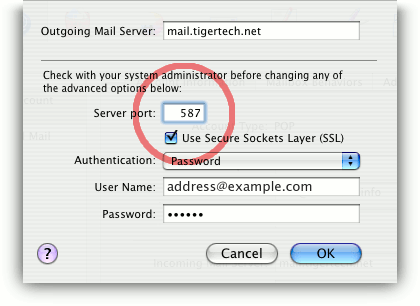 In some cases, the server port will already be set to 587. If so, you don't need to change it.
By the way, we've occasionally heard of a bug in Mail where the "Outgoing Mail Server" in this window will show "mail.tigertech.net:address@example.com" instead of just "mail.tigertech.net". If this happens to you, change it back to mail.tigertech.net as shown. (However, it's normal and harmless for it to show "mail.tigertech.net:address@example.com" as the "Outgoing Mail Server (SMTP)" on the Accounts screen after you close this window.)
6. Close both settings windows.
Click OK to close the outgoing mail server settings window, then click the red close button in the upper-left corner of the Accounts window.
Setup is complete
You've finished setting up Mail! You should now be able to send mail from any network, even if that network blocks most connections to other mail servers.