Gmail
If you currently have an email mailbox on our servers, please use the box above to specify your email address. Doing so will make the instructions on this page easier to understand.
If you have a Gmail account, you can use it to read e-mail from your account on our servers. There are different ways to use your Gmail account:
If you want to use Gmail to view a copy of each incoming message, you can forward your email to your Gmail account (but we also recommend the second step below).
If you want Gmail to "know" that a certain incoming message came through your email address with us, allowing Gmail to keep it separate and optionally send replies from that address, you can also use the Gmail "mail fetcher" service to have your Gmail account pick up a copy of your email. (We recommend using this in addition to forwarding. Using both avoids delays where messages can take a while to appear in your Gmail mailbox, and ensures that you will receive the message even if Gmail rejects the separate forwarded copy.)
If you want to be able to send mail from your address using the Gmail interface, you can configure Gmail to send outgoing mail through our servers.
The sections below explain more:
Forwarding messages to your Gmail account
To get started you can set up a forwarding address in our control panel to forward messages to your Gmail email address. We'll forward a copy of each message to Gmail, and it will (usually) arrive in your Gmail Inbox.
We say "usually" here because, as with any forwarding set up, there's a possibility that Gmail can reject the forwarded copy for their own reasons. To make sure you still get mail if that happens, you should also follow the instructions below to configure Gmail to "fetch" mail from your mailbox.
Also note that if you set up your mail this way, you can't test it by sending a message from your Gmail address to an address that forwards back to the same Gmail address. Gmail shows such test messages only in your Sent Mail, not your Inbox. See our "Gmail Discards Forwarded Messages" page for more details.
Configuring Gmail to fetch mail from your mailbox
In addition to forwarding, you can also have your Gmail account retrieve your email from a mailbox that you've created on our servers. Doing both has two benefits:
The forwarding makes the messages appear in your Gmail mailbox right away (when the forwarded copy arrives), avoiding a possible delay before the "fetcher" checks for incoming messages and shows them to you.
The fetcher makes sure that your Gmail account contains everything in your mailbox with us, even if Gmail rejects the forwarded message.
Gmail will notice and suppress any duplicate messages that arrive both ways, so this is safe to do.
We should also mention that if you also use another mail program (such as Outlook or Thunderbird) to read your mail using the POP3 protocol, you must tell that program to leave mail on the server after the program reads it. If you don't do that, the program may delete the messages before Gmail can read them. Before continuing, make sure that you've set all other mail programs you use to leave a copy of your email messages on the server for at least a short time (a day should be sufficient).
To set this up, follow the instructions on the Gmail "Mail Fetcher" page. Here's a short description of that process:
First, go to the Gmail settings page (an icon of a gear) and click Accounts and Import, then click Add a mail account:

Enter your email address:

Then click Next. On the second screen, leave "Import emails from my other account (POP3)" checked and click Next again.
On the next screen, Gmail will guess some default settings that are incorrect. You should edit those and use these settings:
Username: your full email address (all lowercase)
Password: your email password
POP Server: mail.tigertech.net
Port: 995
Leave a copy of retrieved message on the server: checked
Always use a secure connection (SSL) when retrieving mail: checked
Label incoming messages: address@example.com: checked
Don't check "Archive incoming messages (Skip the Inbox)".
It should look like this: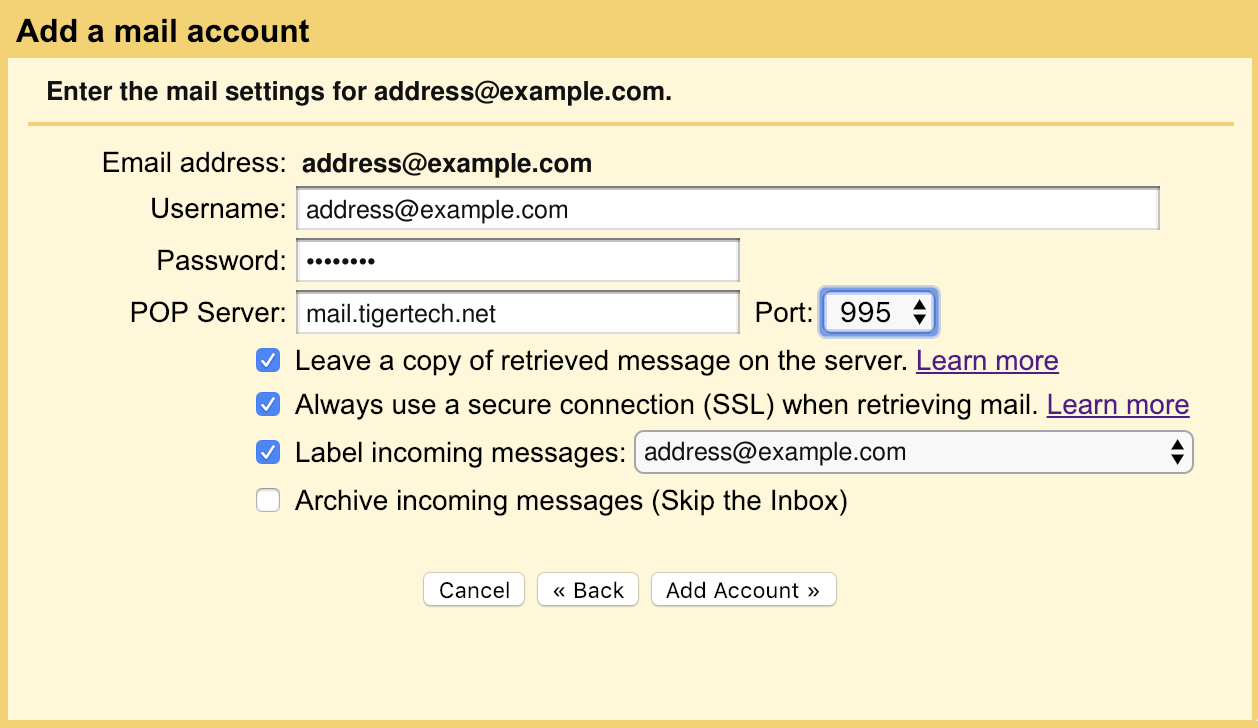 Then click Add Account.
By the way, Gmail won't fetch mail if you have more than 50,000 (or in some cases, 100,000) messages in your Inbox; they'll show an error saying something like "Too many messages to download". You can fix this by archiving some Inbox mail into folders.
Using Gmail to send messages
Gmail also allows you to send messages from your email address if you've created a mailbox for that address on our servers.
You can only send like this if you have a mailbox on our servers for the address. If an address is merely a forwarding address, you'll need to also create a mailbox to be able to send from Gmail, even if you don't ever read the mailbox contents.
Once you've created the mailbox on our end, you'll need to set it up in Gmail. Their Send emails from a different address or alias page has more details about it. (If you're using "Google Workspace" rather than just Gmail, you may first need to explicitly enable the option to "allow users to send mail through an external SMTP server".)
When you do that, Gmail often guesses some default settings that are incorrect. You should use these settings instead of the ones Gmail guesses:
SMTP Server: mail.tigertech.net
Port: 587
Username: your full email address (all lowercase)
Password: your email password
Choose Secured connection using TLS (recommended)
It should look like this screenshot:
Did you set up Gmail "Send mail as" before 2014?
If you set up Gmail to "send mail as" your domain name before 2014, it may have offered to let you "send through Gmail", like the screenshot below: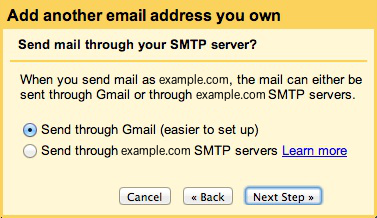 If you chose "send through Gmail" instead of the option to send through other SMTP servers, you may now find that your sent messages get flagged as "spam", or say "sent via Gmail.com" next to them, or say that "Gmail could not verify that this message actually came from example.com" — even when you view the received message using Gmail itself!
That happens because the "send through Gmail" option had no security that checked the sender's identity. Gmail removed that setup option in 2014 because it was causing problems, but they've allowed some people to keep sending mail like that if it was already set up that way. If that applies to you, you can simply delete the existing "send mail as" option in your Gmail settings, then re-add it as described above. Gmail only allows you to set it up the secure way now, so deleting and re-adding it will automatically solve the problem.
Having trouble sending?
We've occasionally heard that customers who follow the instructions above see a message saying:
You must send through example.com SMTP servers when you send as example.com. However, this functionality is not available for your account. Please contact your domain administrator for more information.
If you see this message, it usually means that example.com or the Gmail account was previously connected to a G Suite ("Google Apps") account that includes sending restrictions. The "domain administrator" they're referring to is the administrator of that G Suite Google account, not us. (We can't fix this for you — it's a restriction Google has added on their end.)
Google should be able to help with this, but the short version of the solution is that the domain administrator should login at admin.google.com, then choose Apps > Google Apps > Gmail > Advanced Settings > Allow per-user outbound gateways. (However, Google sometimes changes where this setting is located, so you may need to hunt around for it.)
Why do I see delays before mail arrives at Gmail?
If you set up only the Gmail POP3 "fetcher" without also adding forwarding, mail can take up to 60 minutes to arrive in your Gmail mailbox. That's simply because Gmail only checks for new mail every 30-60 minutes. To avoid this problem, you can add a forwarding address as well as the fetcher, as described above.