Entourage for Mac OS X
This page is obsolete.
It contains instructions for setting up a discontinued program called "Entourage" that has not been updated in many years. If you're looking for a free mail program to use instead, Mozilla Thunderbird is a good choice.
This page explains how to set up the Microsoft Entourage email program on Mac OS X for a mailbox that you've created.
Before you continue, you should enter your email address (the address you want to set up in Entourage) in the box above. Entering your email address makes sure that the instructions below are correct.
1. Start the Entourage program.
2. Click the "Tools" menu and choose "Accounts".
3. Click the "New" button and choose "Mail":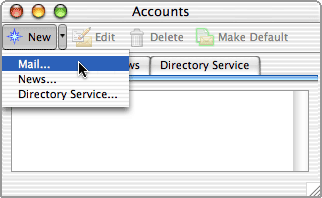 The "Account Setup Assistant" window appears.
4. Click "Configure Account Manually":
The "Edit Account" window appears.
5. Enter your account settings.
Use these settings:
Account name: your email address
Name: your real name, such as "John Smith" or "Joan of Arc"
E-mail address: your email address
Account ID: your email address. (The Account ID must be all lowercase).
POP server: mail.tigertech.net
Password: your email password
SMTP server: mail.tigertech.net
When you are finished, the window should look like this: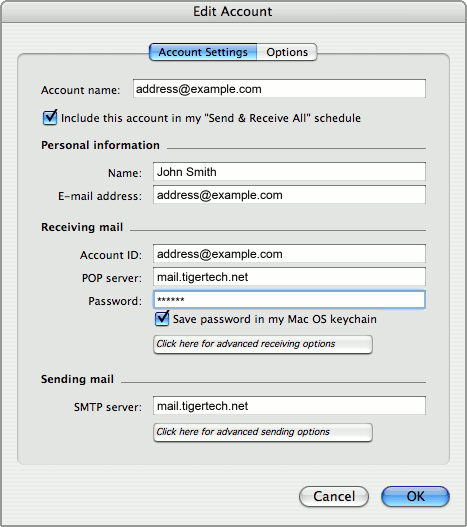 (Checking the Save password in my Mac OS keychain box is optional; if you don't check it, Entourage will ask you for your password each time you send or receive email.)
6. Open the advanced sending options window.
To do this, click the button marked Click here for advanced sending options in the "Sending mail" section.
7. Change the advanced sending options.
Change the default SMTP port and authentication settings:
Check the Override default SMTP port box.
Change the Override default SMTP port number from 25 to 587.
Check the SMTP server requires authentication box.
The window should look like this:
(These changes make sure that your ISP will not block the connection to our servers and that Entourage uses a password when sending email.)
8. Close the setup windows.
Click the small square in the top-left of the "advanced sending options" window to close it, then click OK to close the main "Edit Account" window.
Optional step: leaving copies of mail on the server
If you read email in more than one program, you may want to leave a copy of each read message on the server so it can be seen by the other program (or Webmail).
Setup is complete
You're finished! Try sending yourself a test email message to make sure it works.