Macromedia Contribute
This page explains how to set up the Macromedia Contribute program to publish your website files.
Macromedia Contribute is a Web design program distributed by Adobe. It's available for Windows and Mac OS computers, and a trial version can be downloaded from http://www.adobe.com/downloads/.
These instructions are based on Contribute 3, although other version should be similar.
Here's how to set up Contribute to publish files to our servers:
1. Start the connection wizard
Start the Contribute program and click Create Connection.
2. Choose manual configuration
A window will appear asking you if you have a Connection Key. Click Next to continue and create the connection manually.
3. Enter your website address
Enter http://example.com/ as the Web address for your site.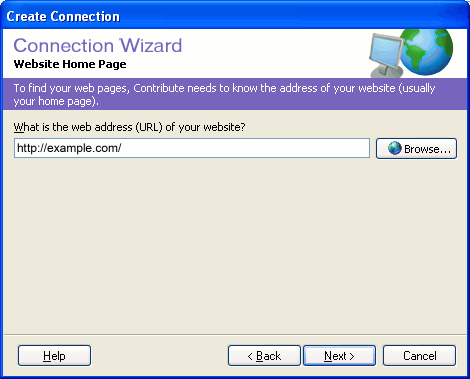 Click Next to continue.
4. Enter the connection details
Select FTP as the connection type.
Enter ftp.tigertech.net as the FTP server name.
Enter example.com as the username (all lowercase).
When you have entered the information it should match the image below: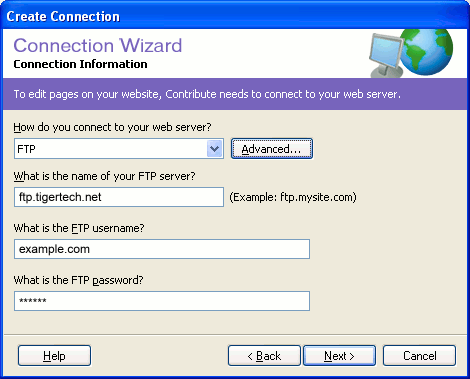 Click Next to continue.
5. Add your contact details
Enter your name and email address:
Click Next to continue.
6. Check your settings
The connection should now be complete. Check that your settings match those shown beneath and click Done when finished.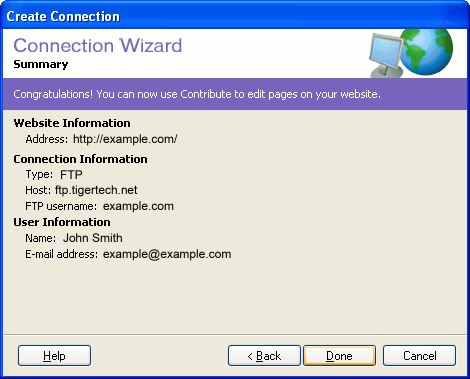 You should now be able to publish files to your website. See the Contribute documentation for more details.