Outlook 2016 Windows Manual Setup for POP3
This page explains how to set up Microsoft Outlook 2016 on a Windows computer to send and receive email for an email mailbox you've created, using a POP3 connection.
We don't recommend using POP3.
POP3 is an old connection method that doesn't work well if you use multiple devices. We recommend using IMAP instead. IMAP lets you see all your mail and folders on multiple devices, and keeps those devices in sync automatically. It also lets us back up your mailbox more reliably.
Before you continue, you should enter your email address (the address you want to set up in Outlook) in the box above. Entering your email address makes sure that the instructions below are correct.
1. Start the Microsoft Outlook program.
Use the Start menu to start Outlook 2016. If you've never used Outlook before, it will usually prompt you to create a new account. In that case, skip ahead to step 2.
If Outlook doesn't prompt you, click the File tab: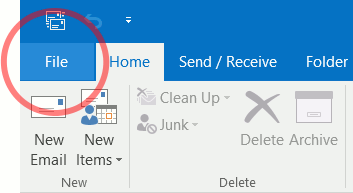 Then make sure that Info is selected on the left and click the Add Account button: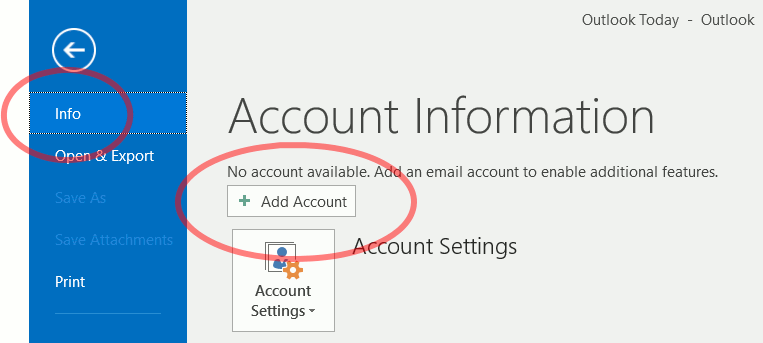 2. The "Welcome to Outlook" window appears.
When this window appears:
Enter your email address as address@example.com
Click Advanced Options
Click Let me set up my account manually
The window should look like this: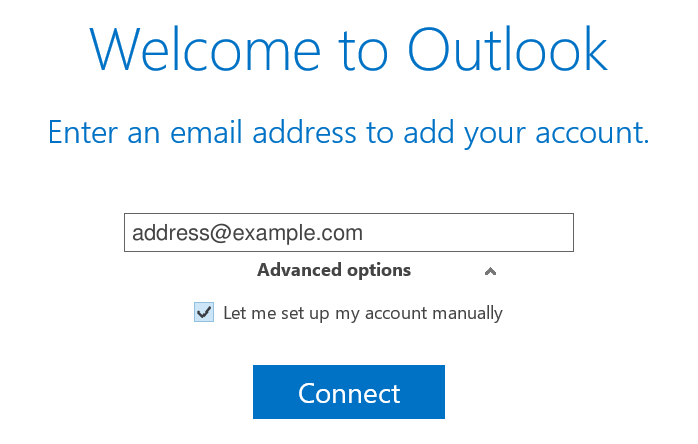 Then click Connect.
3. The "Choose Account Type" window appears.
The window looks like this: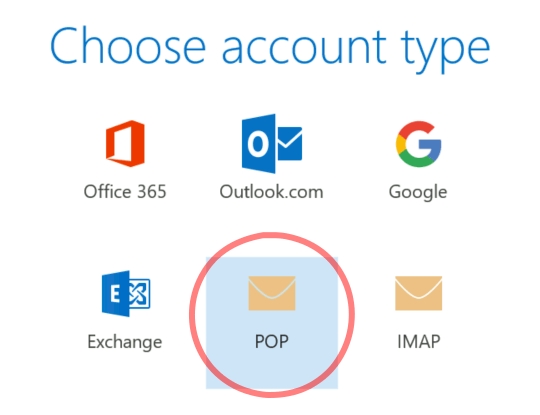 Click POP.
4. The "POP Account Settings" window appears.
This is the window where you'll enter most of your account settings:
| | |
| --- | --- |
| Incoming mail server: | mail.tigertech.net |
| Incoming mail port: | 995 |
| This server requires an encrypted connection (SSL/TLS): | checked |
| Outgoing mail server: | mail.tigertech.net |
| Outgoing mail port: | 587 |
| Outgoing mail encryption method: | STARTTLS |
Make sure that the two "Require logon using Secure Password Authentication (SPA)" checkboxes are not checked.
The window should look like this: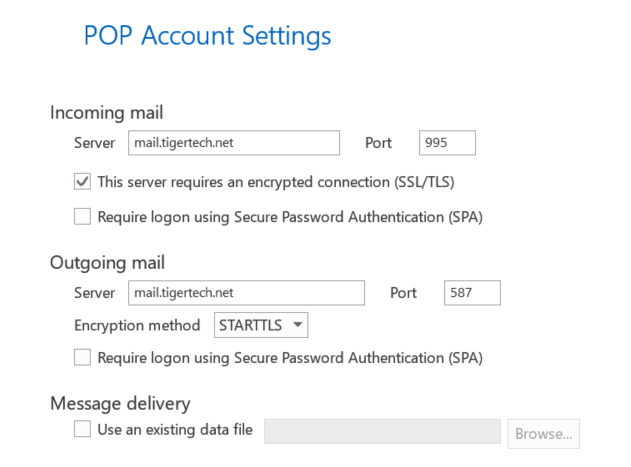 Click Next.
5. Outlook asks for your password.
Type the email password you chose when you created this email address, then click Connect.
6. Outlook setup is complete
You're finished! Try sending yourself a test email message to make sure it works.
How to fix Outlook deleting all the messages from the server when it shouldn't, or downloading the same messages repeatedly
Certain versions of Outlook 2016 have a bug that causes this behavior with POP3 connections. A Microsoft page about this bug explains in more detail what happens and how to fix it.