How do I allow HTML messages to be sent to a Mailman list?
By default, a new "group discussion" Mailman list converts any HTML messages sent to the list to "plain text", making sure that even people without HTML-capable email programs can easily read the messages.
If you wish, you can allow HTML messages to be sent to your group discussion mailing list. Keep in mind that doing this can make it more difficult for people to read list messages, especially if they have text-only email programs. In particular, enabling HTML messages will often cause the message to appear to have extra "attachments" when viewed in some mail programs.
If you do want to allow HTML attachments, just turn off "content filtering" in Mailman.
1. View Mailman's "Content Filtering" screen
Go to the management page for your list, then click Content filtering.

2. Disable filtering
Click No next to "Should Mailman filter the content of list traffic according to the settings below?"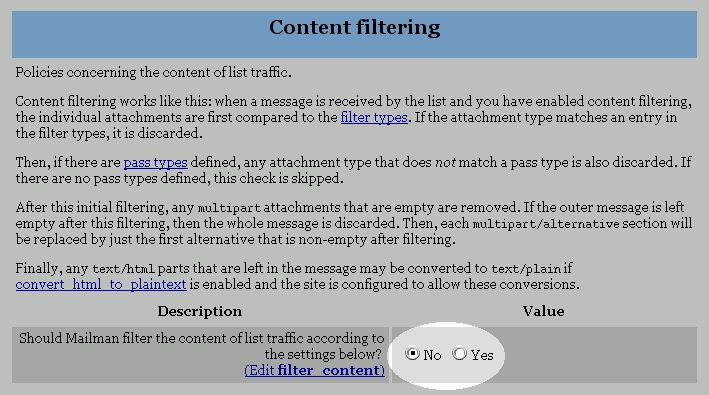 3. Press the "Submit Your Changes" button
Your Mailman list will now allow HTML messages to be sent. (Note that this change also allows messages with file attachments.)