Setting Outlook Express to use IMAP
With Microsoft Outlook Express, you can optionally use IMAP connections for reading incoming mail. Using IMAP (instead of the more widely used "POP3") allows you to keep your messages on our servers instead of downloading them to your computer.
Keeping your messages on our servers can be useful if you read mail two completely different ways. For example, if you use both Outlook Express and Webmail, each program will know what messages you've read, and the two programs will share a single "sent mail" folder on the server. (If you always read mail using a single copy of Outlook Express, using IMAP won't make a difference and probably isn't worth the effort.)
Configuring IMAP
To configure IMAP with SSL:
1. Follow our standard instructions for setting up Outlook Express
You'll first need to follow the basic instructions to set up Outlook Express, with one change: choose "My incoming mail server is a IMAP server" (instead of "POP3") in step 6.
If you previously set up a POP3 account in Outlook Express, you'll unfortunately need to delete those settings from within Outlook Express, then go through the setup instructions again. Deleting the old settings from Outlook Express is safe: it will not delete mail from your In Box.
2. Open the "Internet Accounts" window.
Click Tools, then Accounts from the menu bar.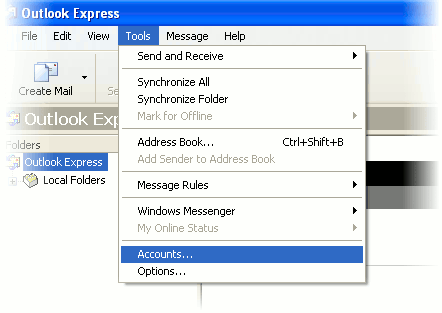 3. The "Internet Accounts" window appears.
Highlight the email account you wish to change and click Properties.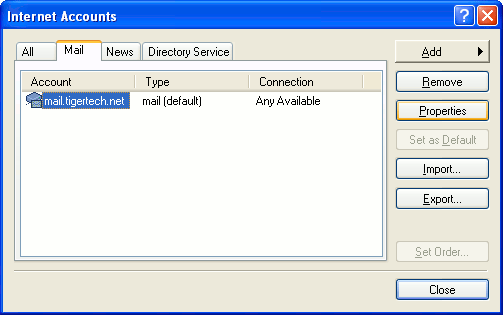 4. The "Properties" window appears.
Click the Advanced tab, then:
Check both boxes marked This server requires a secure connection (SSL)
Change the "Outgoing mail (SMTP)" port number to 465
Make sure that the "Incoming mail (IMAP)" port number is 993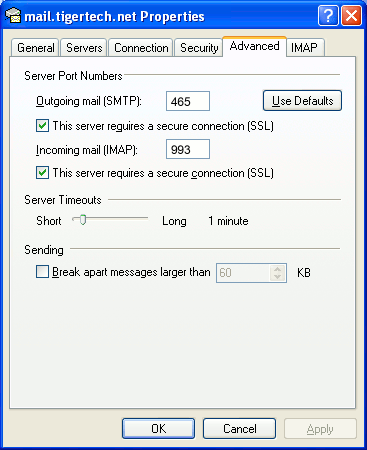 5. Set the IMAP folders
Click the IMAP tab, then:
Enter INBOX for the "Root folder path".
Check the box marked "Check for new messages in all folders".
To make Outlook Express save drafts and copies of sent messages on the IMAP server, set the following options. (If you don't, drafts and sent messages will be stored on your local hard disk, and won't be visible from Webmail or other programs.)
Check the box marked "Store all special folders on IMAP server".
Enter Sent for the "Sent Items Path".
Enter Drafts for the "Drafts path".
The words INBOX, Sent, and Drafts are case-sensitive. Be sure that "INBOX" is entirely uppercase, and that "Sent" and "Drafts" starts with a capital letter followed by lowercase letters.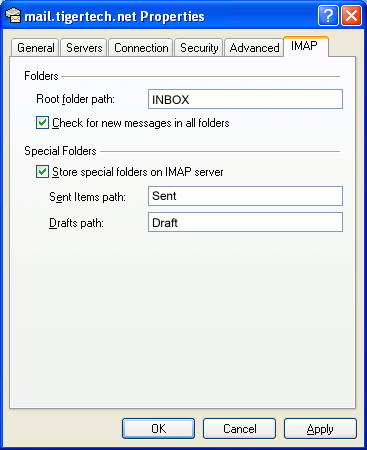 6. Close the setup windows.
Click OK to close the Properties window, then click Close to close the Internet Accounts window.
Outlook Express is now setup to use IMAP!
You're finished! Try sending yourself a test email message to make sure it works.