How do I set up mail on an Android-based phone?
This page explains how to set up the built-in mail program of an Android-based phone or tablet, including popular Samsung phones, to send and receive email. (You must have first created the mailbox on our servers.)
Note that some Android phones use a custom email client that looks different than the pictures below. The settings are still the same and we have tried to add special instructions where applicable. (By the way, if you're setting up the Outlook or Gmail apps on your phone instead of the built-in mail app, we have separate instructions for Outlook on Android and Gmail on Android).
1. Go to the mail setup screen on your phone.
From the applications menu, select Email.
If you have a previous email account created, press Menu, then Add account.
(On some Android devices, you may need to click More, then Settings, then Add account, or choose the Add another account option under the presets such as "Yahoo.com", "AOL", "Corporate", etc. Alternately, some phones use the My Accounts application for setting up email accounts.)
2. Enter your email address and password.
The screen will look like this: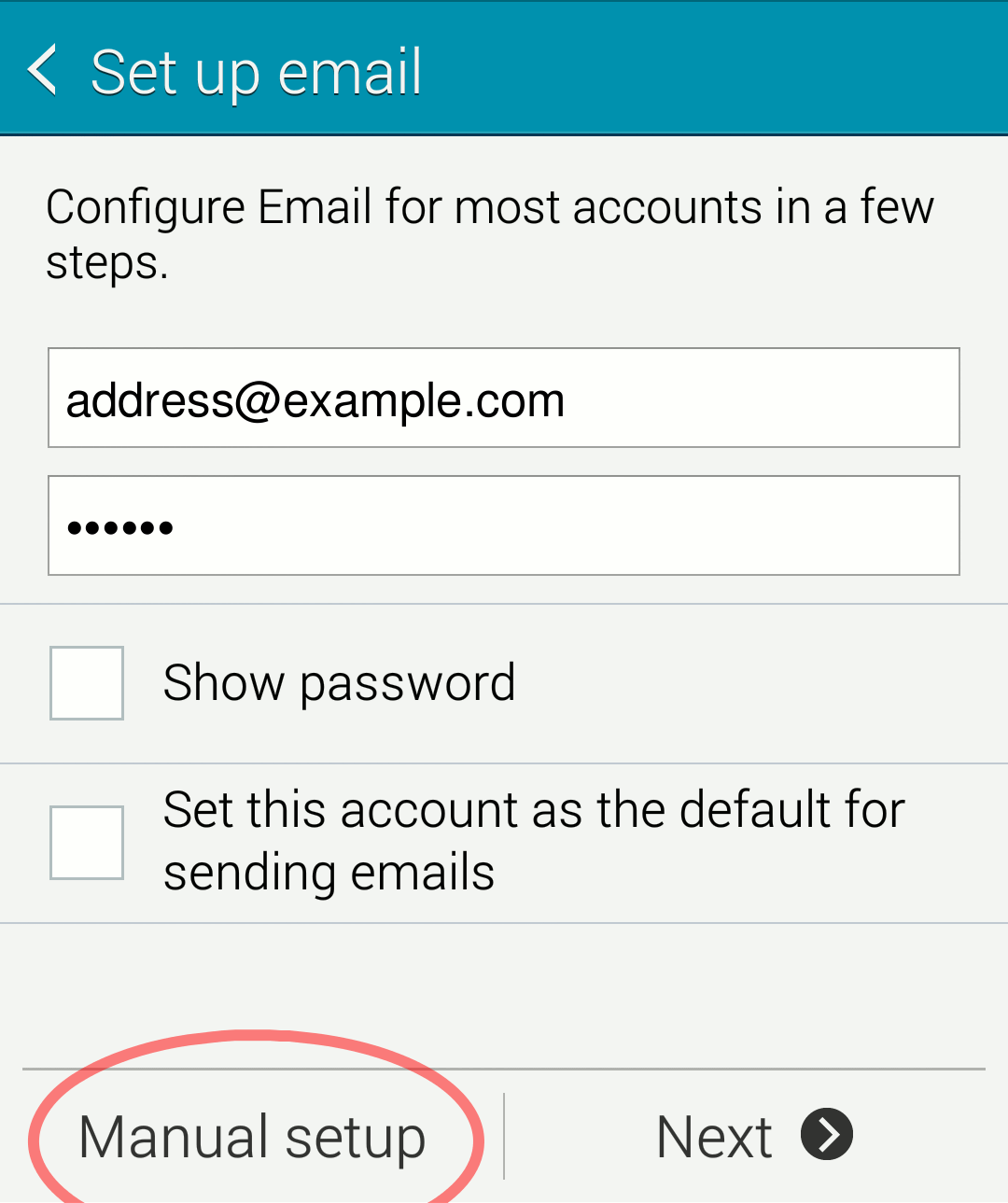 Press Manual setup in the bottom left hand corner to continue.
3. Select the type of account.
For these instructions, we will be setting up a IMAP account using TLS. Select IMAP account from the account type menu shown below.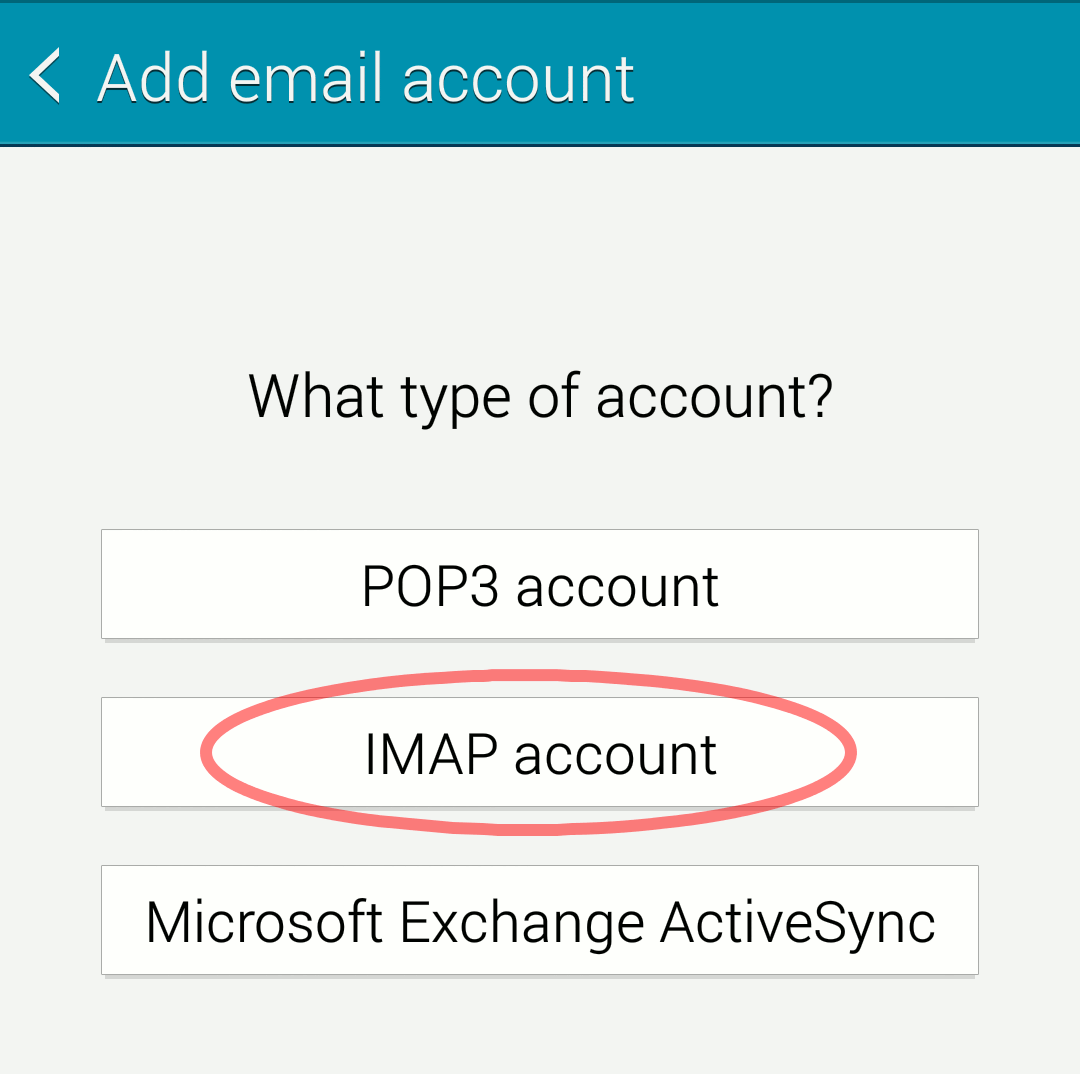 4. Incoming server settings.
Type the following for "Incoming server settings":
The screen should look like this: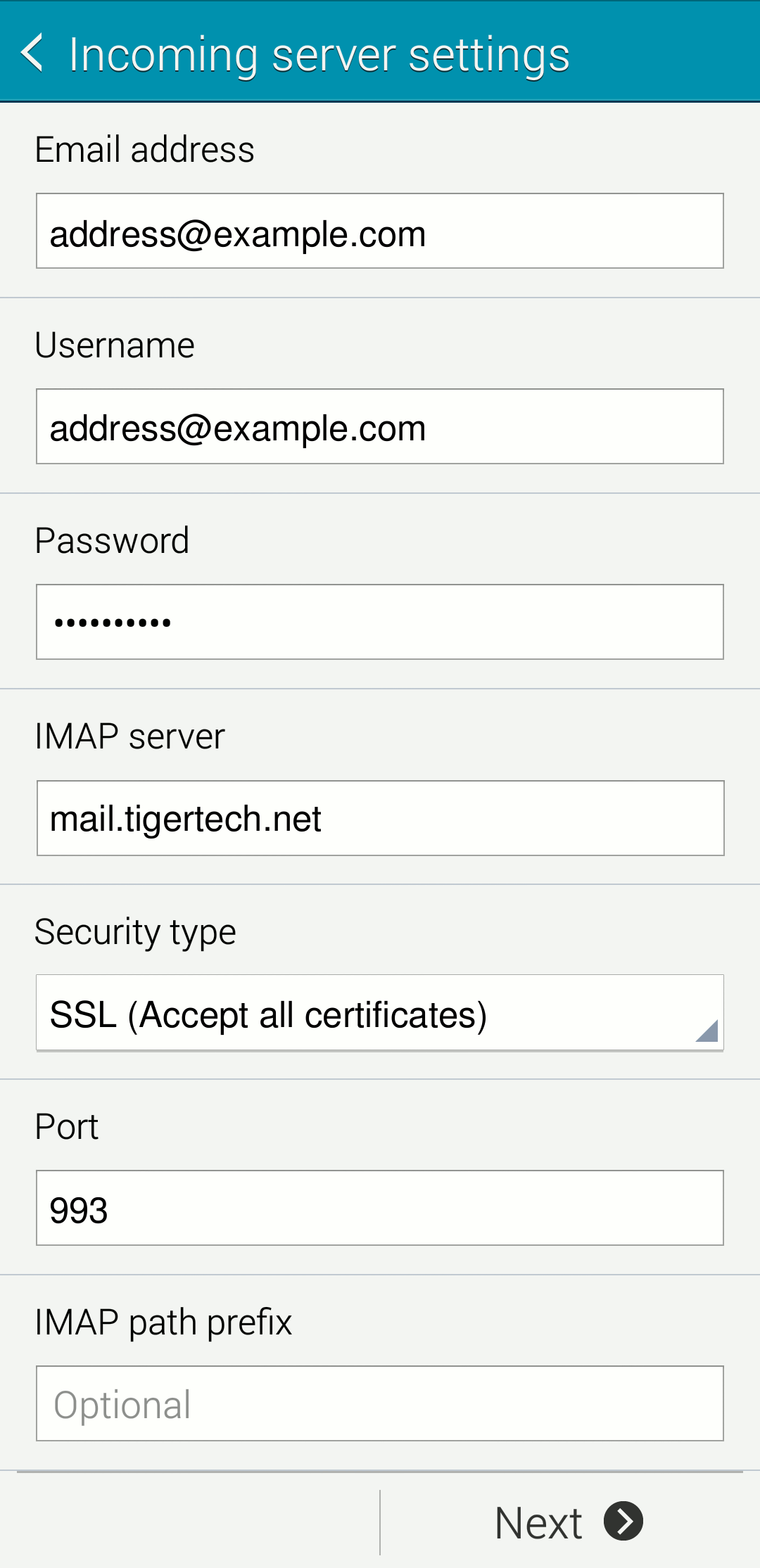 (Instead of "Security type", some older phones have checkboxes marked "Use secure connection" and "Verify Certificate". If you have one of these phones, check the first box, and leave the second unchecked.)
Then press Next on the bottom of the screen. (On some devices you may need to click Sign in instead.)
5. Outgoing server settings.
Type the following for "Outgoing server settings":
The screen should look like this: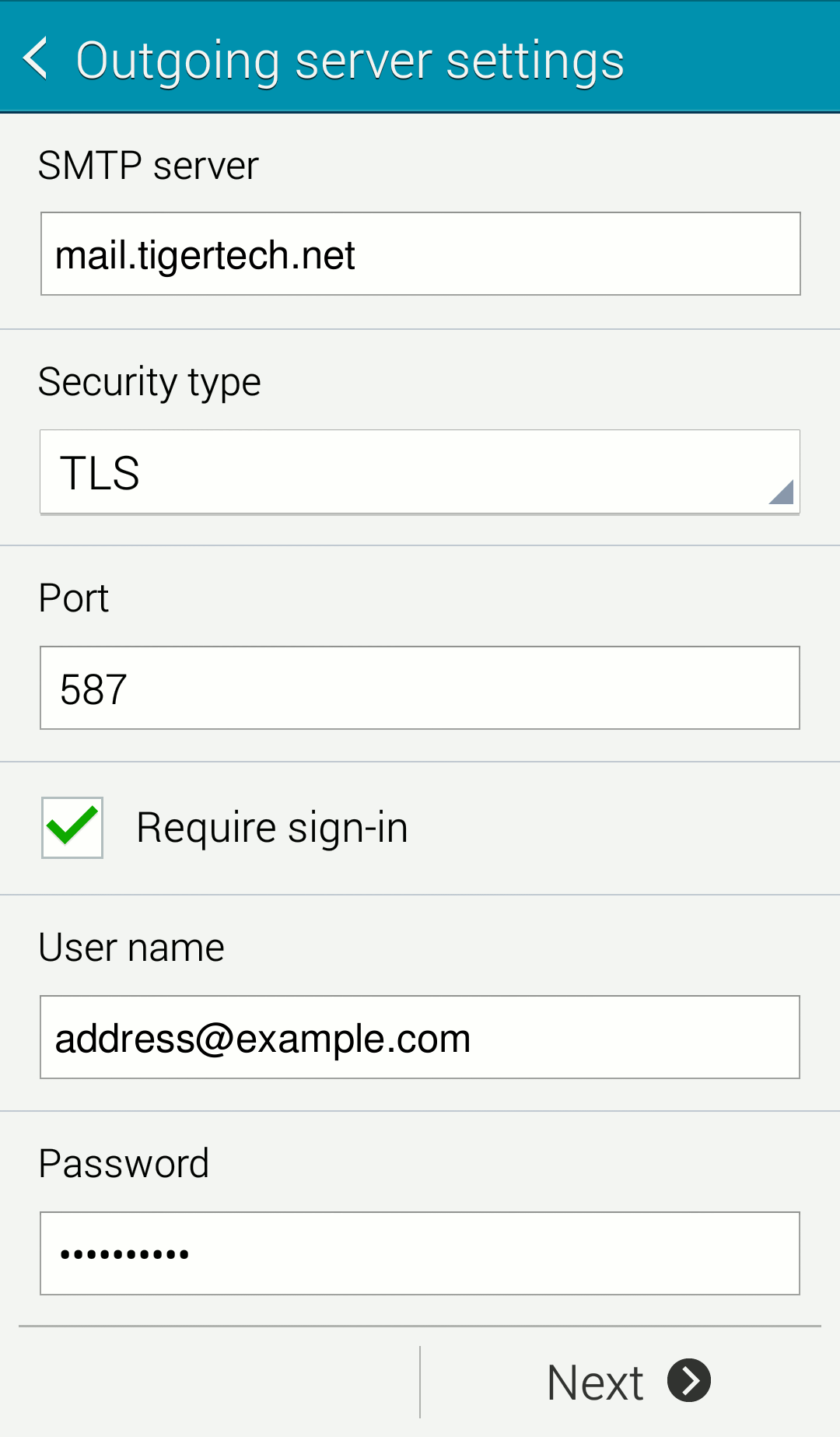 Then press Next on the bottom of the screen.
Some things to bear in mind:
6. Account options.
The next screen lets you some options about how your phone checks for mail. You can update these if you wish, or leave the defaults: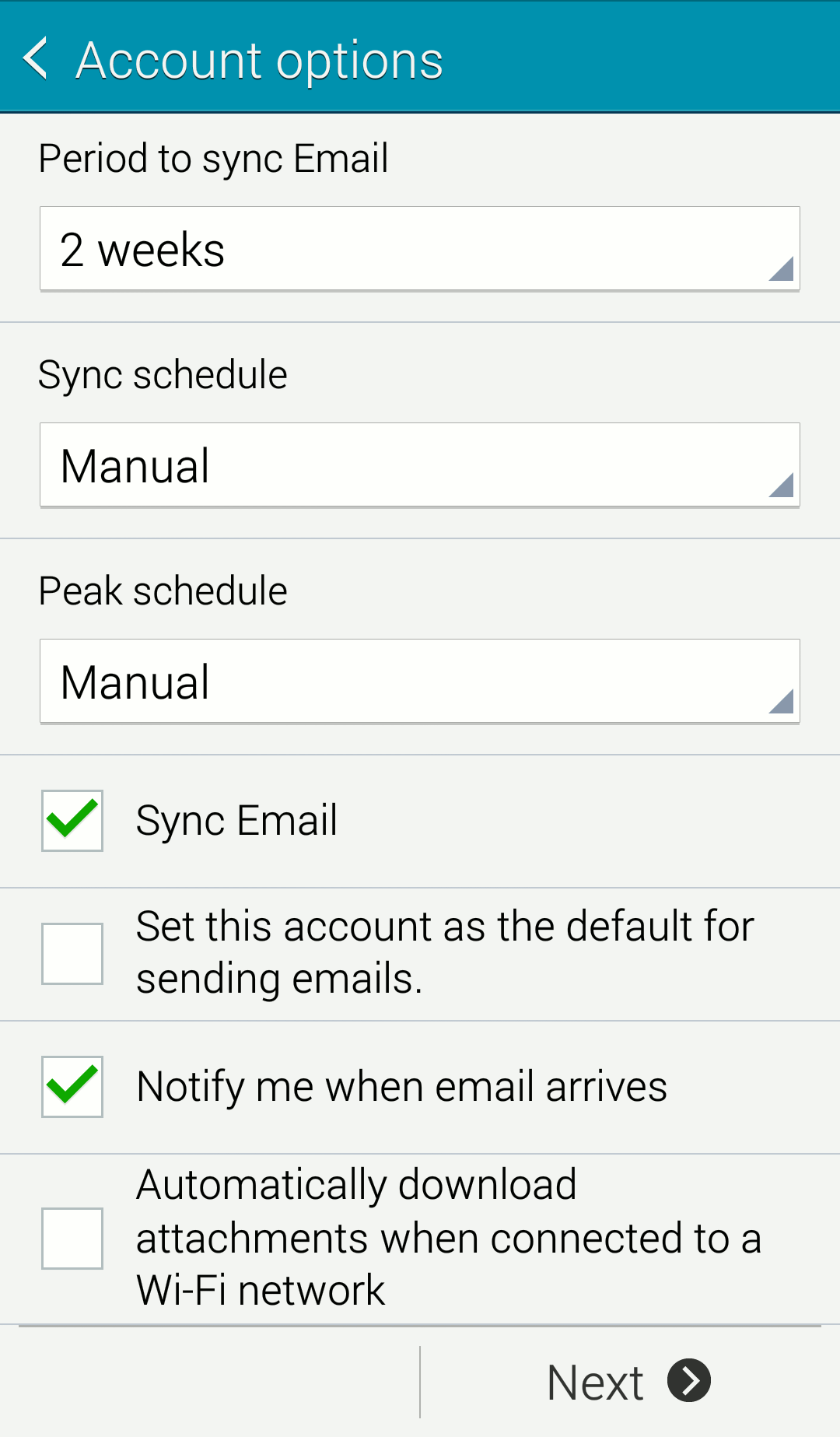 (The "Period to sync Email" is the amount of recent mail that your phone keeps a copy of without needing to contact the server again.)
Press Next on the bottom of the screen.
7. Account name.
Enter in an account name, which your phone will use to describe this account. We recommend entering your email address.
Then enter your name. This is the name that other people will see when you send them email. It should usually be your real name, such as Jane Smith.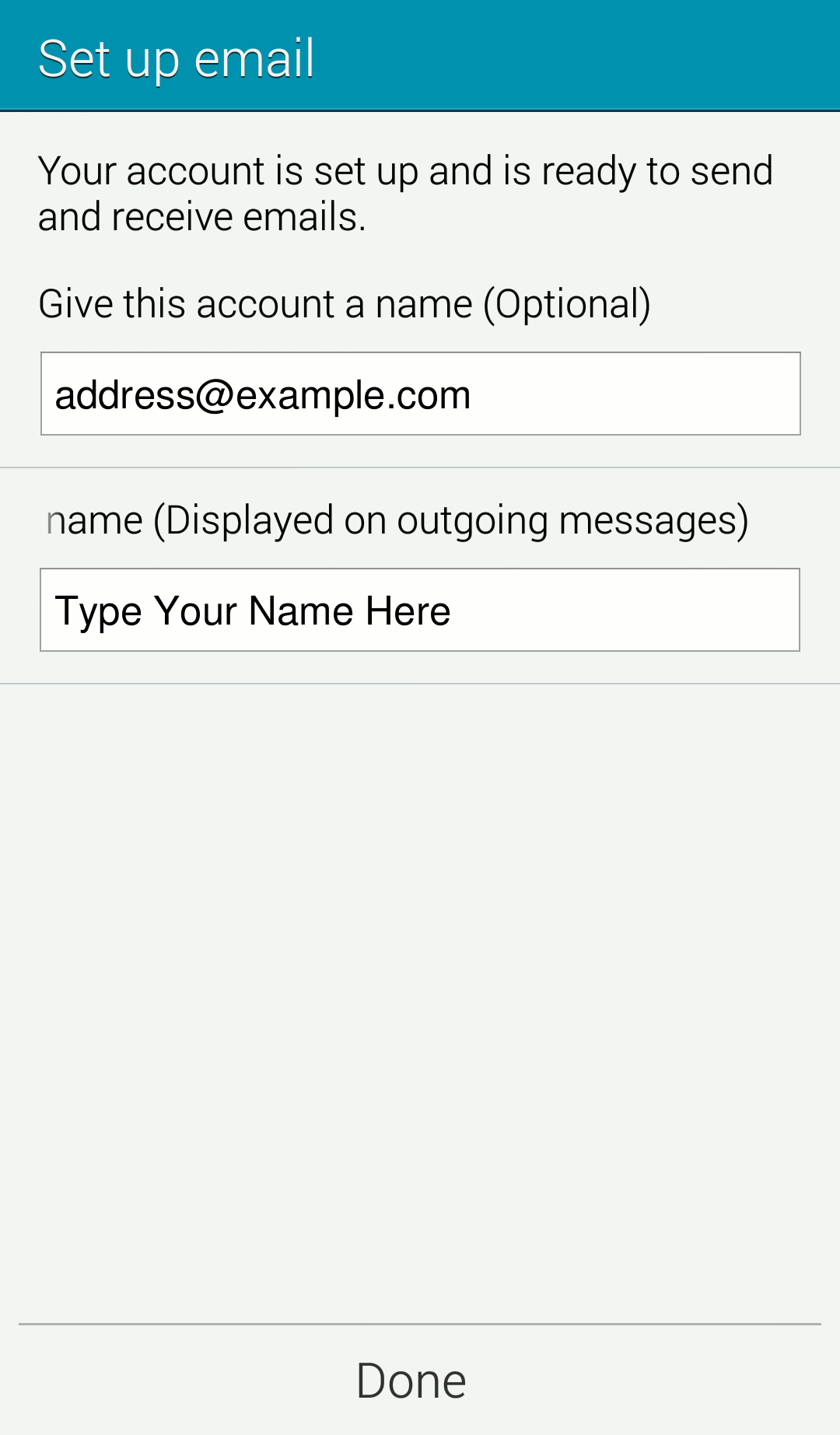 Then press Done on the bottom of the screen.
Setup is complete!
You're finished! Try sending yourself a test email message to make sure it works.
Having trouble downloading mail on cellular connections?
If your Android phone downloads mail properly on Wi-Fi connections, but not on cellular connections, see our Android doesn't download mail on cellular connections page.
What if I want to use POP3 instead of IMAP?
We do recommend IMAP for Android phones. However, if you prefer POP3 for some reason, the settings would be identical, except that:
In step 3, you would choose POP3 account instead of "IMAP account"
In step 4, you would use port 995 instead of "993".
Everything else would be the same.