Gallery Photo Albums
This page explains how to set up Gallery on your website. Gallery is one of the most popular photo album organizers, and is also free and easy to install.
On this page:
Installing Gallery
These instructions are based on Gallery 2.1.1, although other versions are similar.
1. Getting Gallery.
First of all, download the most recent "typical" Zip version of gallery, then unzip the files into a new folder named "gallery2" on your computer.
2. Creating a MySQL database.
Gallery uses a MySQL database to store and organize your album. We recommend creating a new database specifically for Gallery.
To do this, follow the instructions on how to create a MySQL database. There is no specific format that you must follow when naming the database. The instructions below assume that you chose galleryexample as the database name.
3. Upload Gallery and start the Installation Script.
Upload the extracted "gallery2" folder, and all of the files in it, to your website using FTP.
Open the page "/gallery2/install/index.php" in your Web browser.
The following page should appear: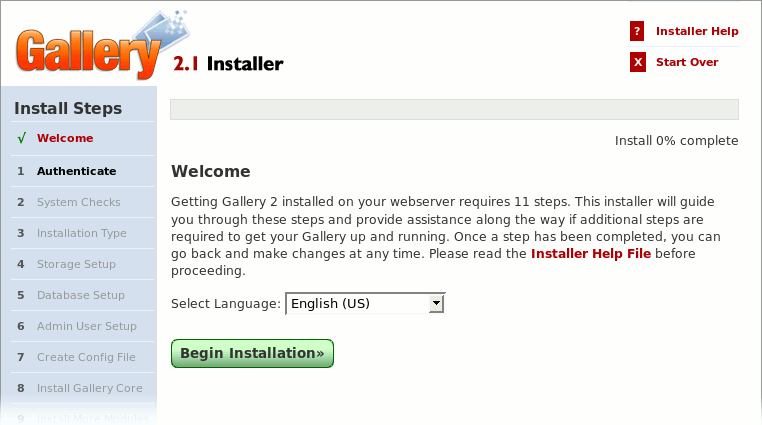 Click "Begin Installation".
4. Provide Authentication.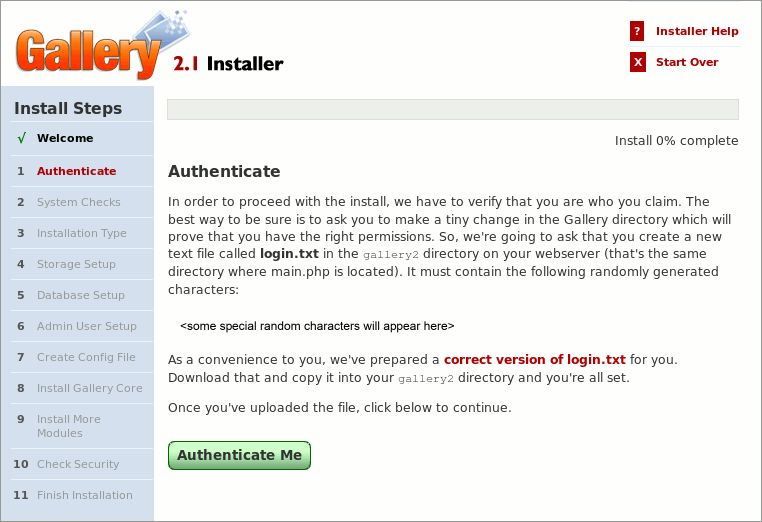 Click on the link called correct version of login.txt and save it to your own computer. Then use FTP to upload this file so that it is inside the "gallery2" directory on your website.
Click "Authenticate Me".
5. Start the Installation.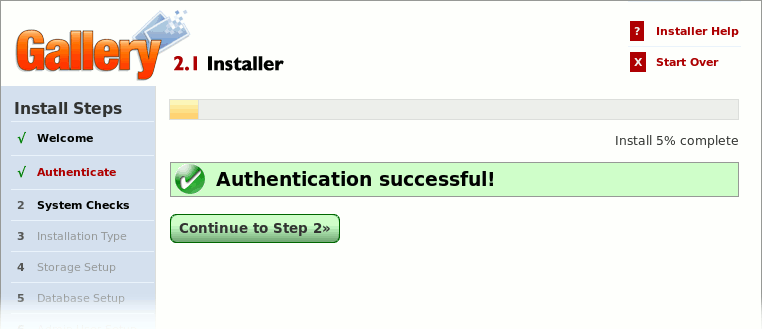 If the login.txt has been correctly uploaded, you should be able to click "Continue to Step 2" to start the installation.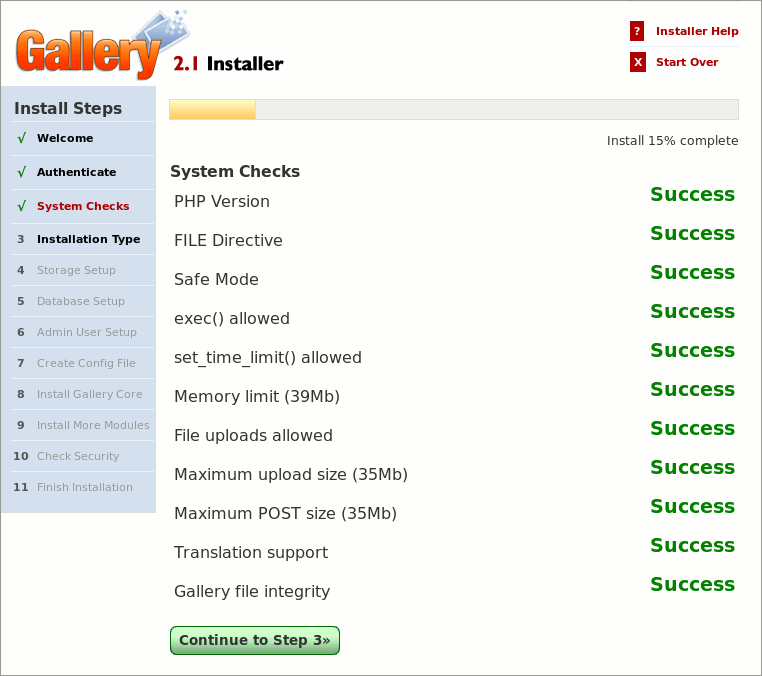 Click "Continue to Step 3".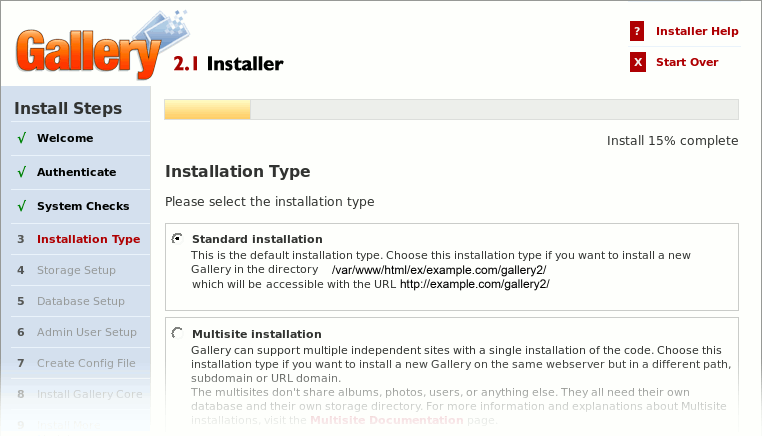 Choose the "Standard Installation" and click "Continue to Step 4".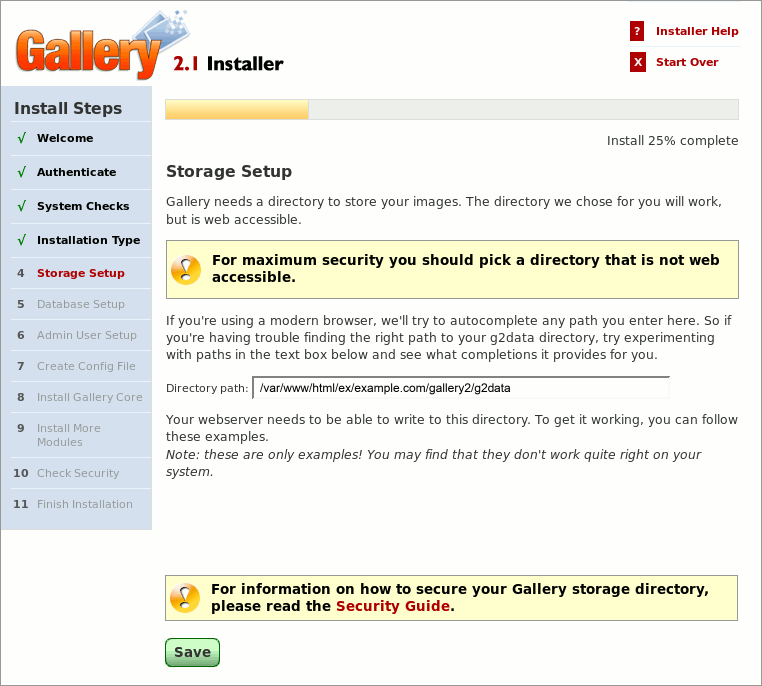 You need to create the "Directory path" before clicking the Save button. To do this, connect using FTP and go to the "gallery2" directory, then create a new directory named g2data inside "gallery2".
Enter /var/www/html/ex/example.com/gallery2/g2data as the "Directory path" and click "Save".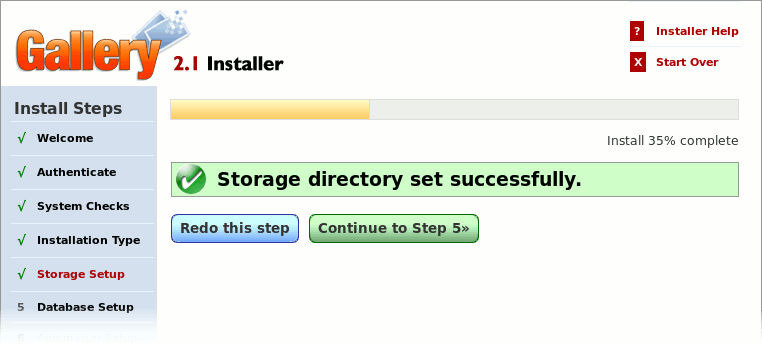 Click "Continue to Step 5".
6. Configure the Database.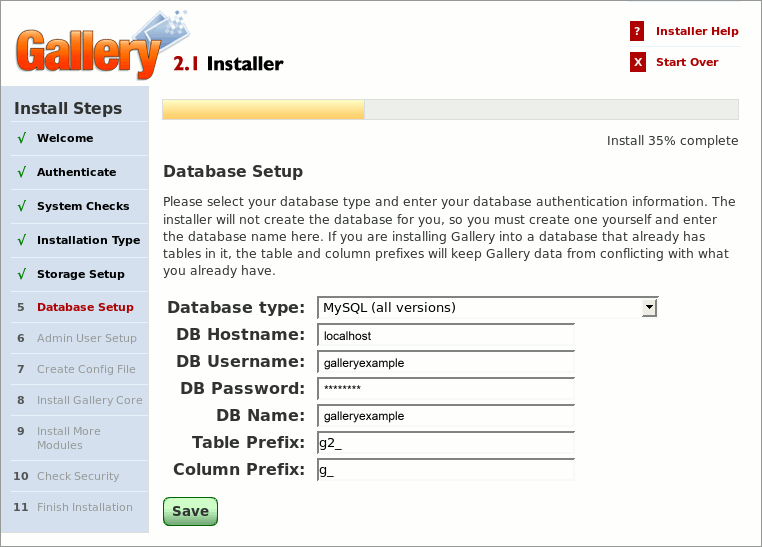 Enter localhost for the "DB Hostname".
Enter galleryexample for both the "DB Username" and "DB Name" fields.
Enter your MySQL database password under "DB Password".
The column and table prefix values do not need changing.
Click "Save".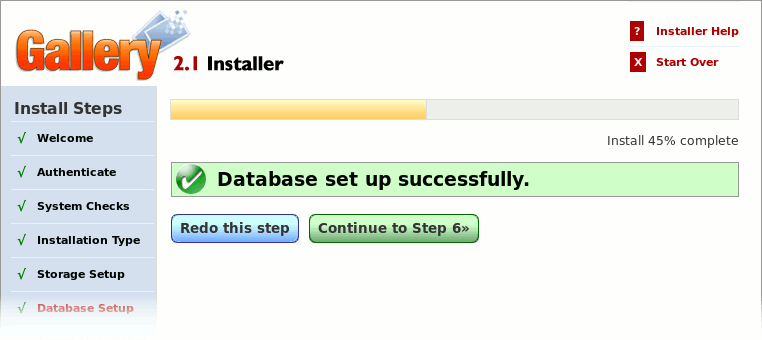 Click "Continue to Step 6".
7. Enter the admin details.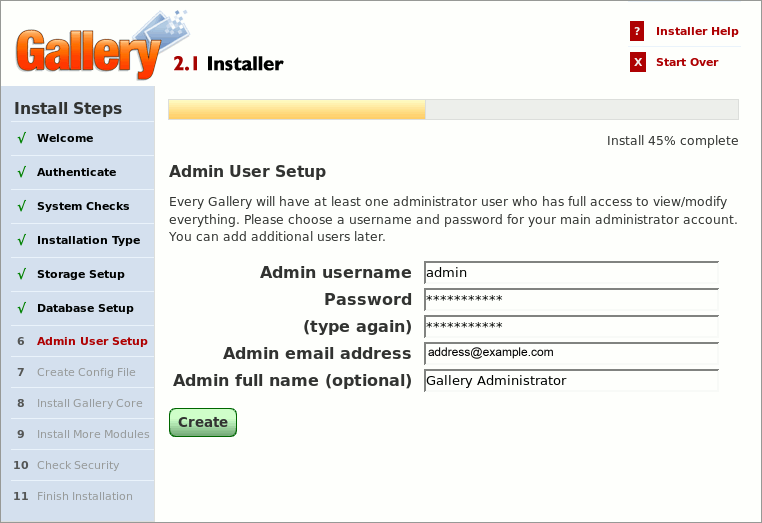 Choose a password and enter your email address.
Click "Create".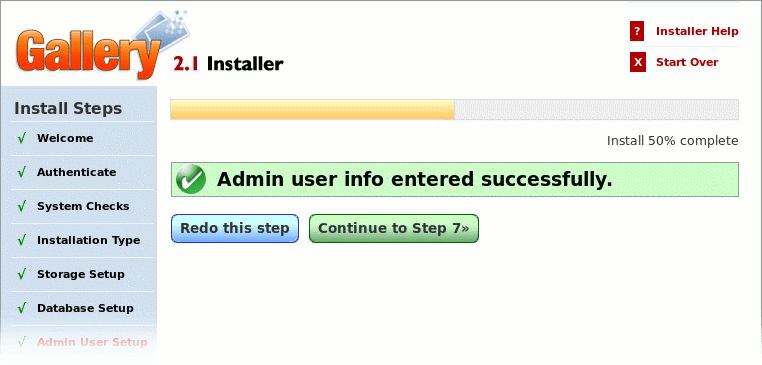 Click "Continue to Step 7".
8. Install the modules and finish the Installation.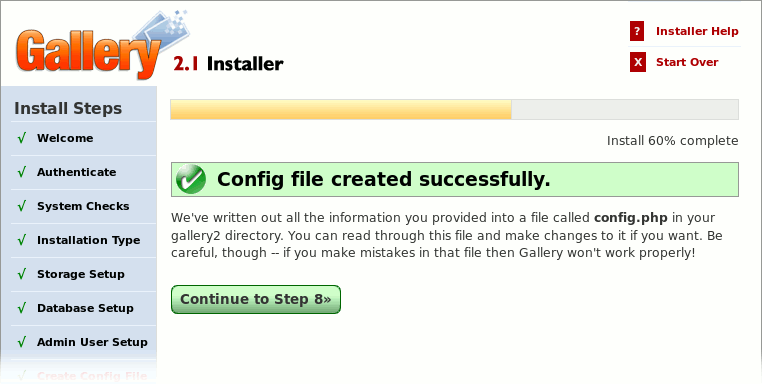 Click "Continue to Step 8".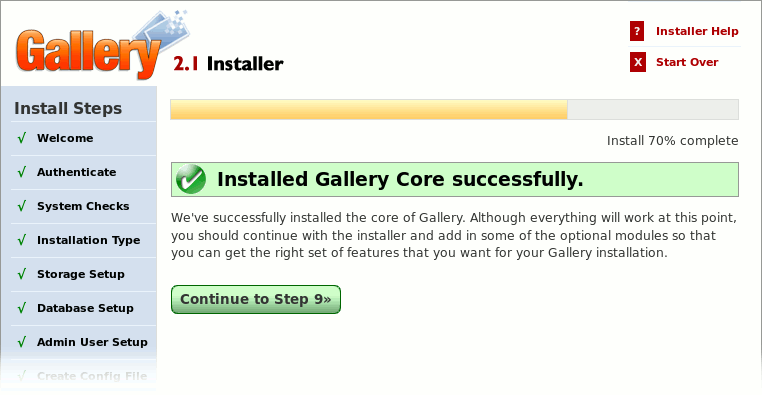 Click "Continue to Step 9".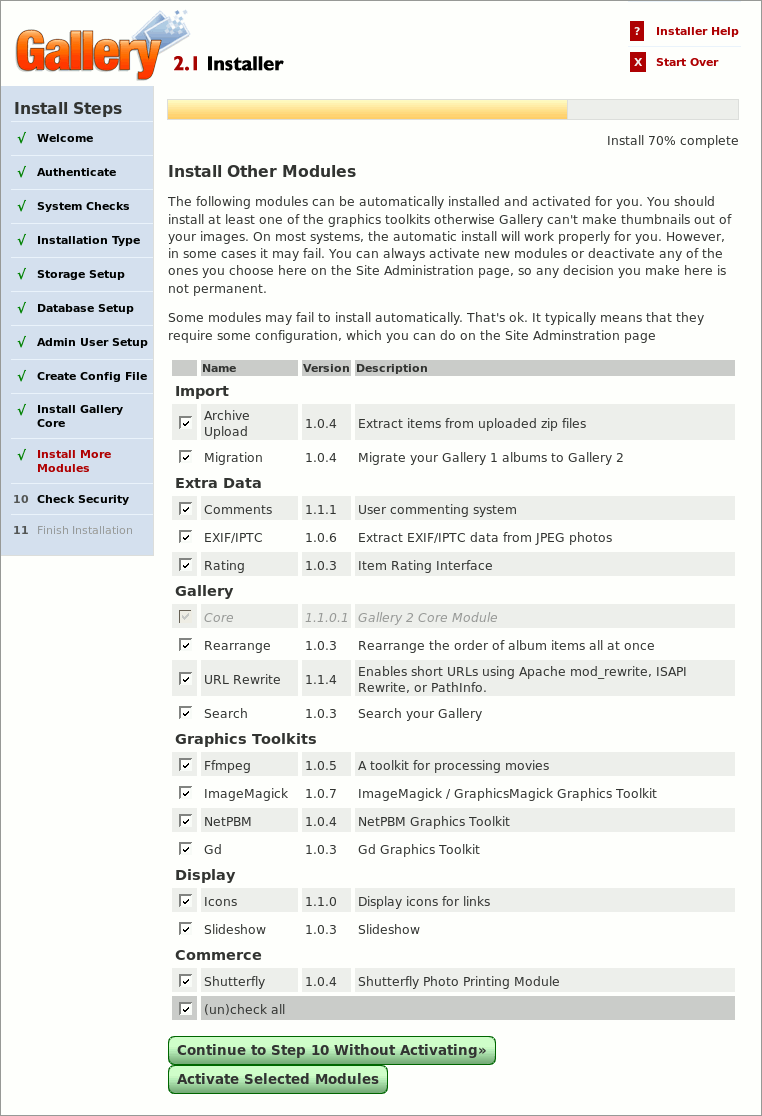 The default modules that are selected should be fine (you can always change them later). Click "Activate Selected Modules". Some of the modules may not be fully configured. Once the installation is complete you can login to the admin area and finish configuring these modules if you need the additional features they provide.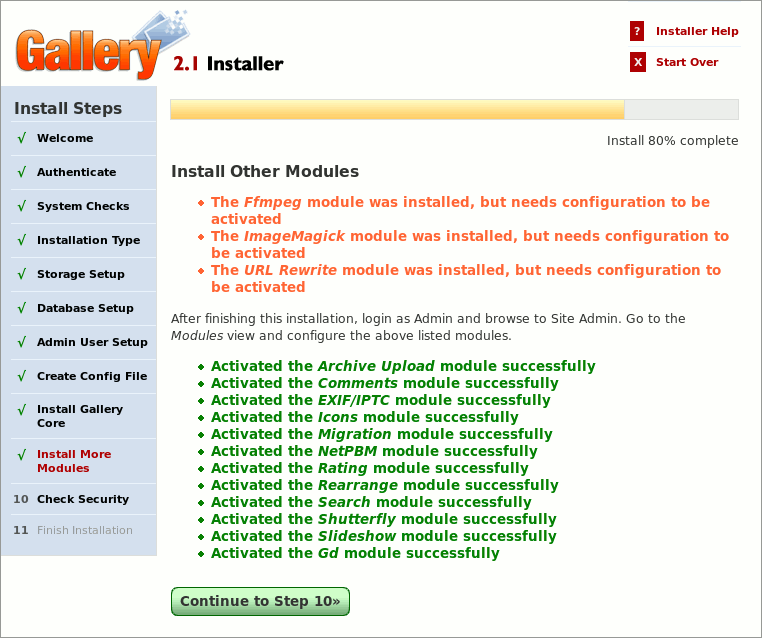 Click "Continue to Step 10".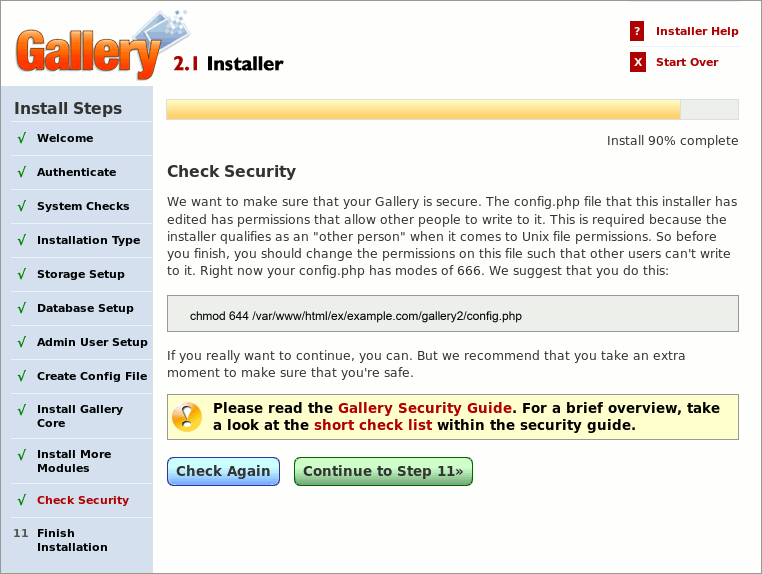 Click "Continue to Step 11".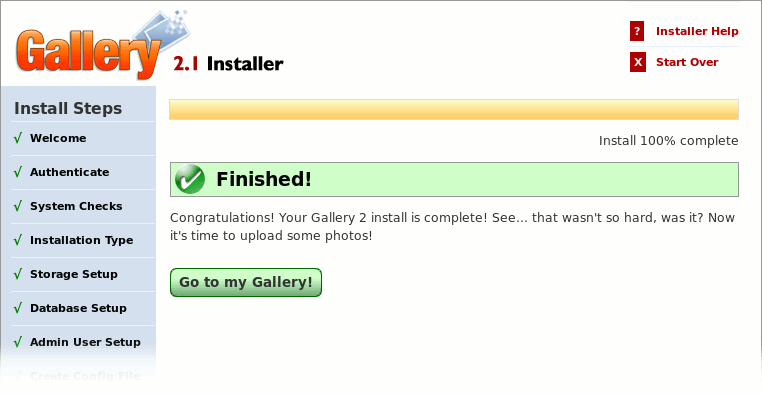 The installation is now complete. You should be able to login and configure Gallery.
Click "Go to my Gallery" to start using Gallery. .
Disabling slideshow indexing by search engines
Gallery has a known bug with slide shows: in some cases, they can be very slow to load and use up a tremendous amount of server CPU resources.
This is particularly a problem when search engines try to "index" a site with more than a handful of albums. When a search engine loads all your Gallery slideshow pages, it can slow your site to a crawl, possibly even causing us to warn you about potential CPU usage fees.
There's a simple solutions to this: prevent search engines from indexing your slideshow pages. To do so, add the following robots.txt text file to your site, or ask us to do so (there's no charge):
User-agent: *
Disallow: /GALLERY_PATH/main.php?g2_view=slideshowapplet.SlideshowApplet
Disallow: /GALLERY_PATH/main.php?g2_view=slideshow.Slideshow

Adjust the "GALLERY_PATH" to match the actual location of the Gallery directory on your site.
Doing this won't harm your search engine listings at all, since each image appears by itself elsewhere within your site and will continue to be indexed. It's only the very slow slide-show view that won't appear separately in search engines — and that isn't a page you would want a user to see if they found your site from a search anyway.
(Our servers will also try to automatically block search engine robots from indexing slide show pages, but we only handle a few popular search engines. Using robots.txt should catch even obscure search engines, too.)