Microsoft Expression Web
Microsoft used to offer a free web design program, Microsoft Expression Web, that you could use to design a site. Although the program is no longer available for new users, the instructions below will help you publish your site if you're still using it.
Publishing files from Expression Web 4
To publish your site, click the Site menu and choose Publishing Settings. Add a destination with these settings:
| | |
| --- | --- |
| Name: | example.com |
| Connection Type: | FTPS |
| Location: | ftps://ftp.tigertech.net/ |
| Directory: | (leave blank) |
| User name: | example.com (all lowercase) |
| Password: | (your main account password) |
| Maximum simultaneous connections: | 4 |
| Use Passive FTP: | checked |
The window should look like this: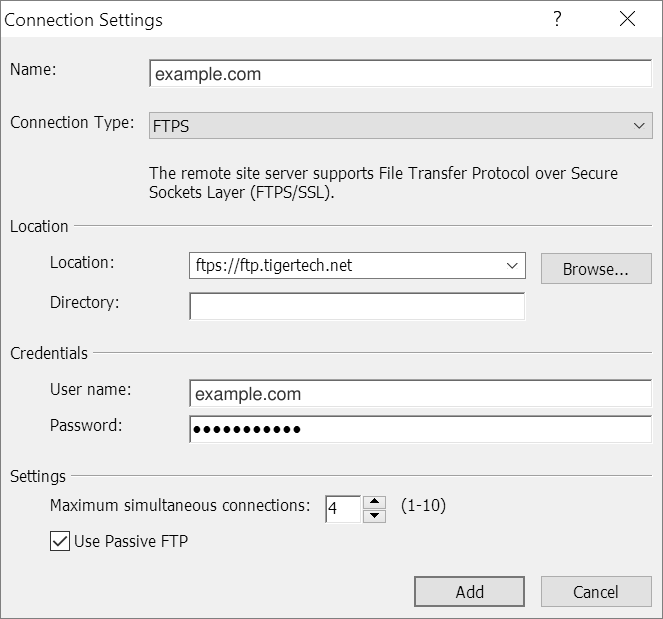 Once you've added the destination, you can choose Site > Publish All Files to "example.com" to publish any changes.
Notes
While the "name" in the settings doesn't actually matter, it's simplest to make it be "example.com" as suggested above to avoid confusion.
The "directory" box should be left blank. Your connection will be in the correct directory to start with.
The "User name" must be all lowercase.
You should usually leave the "Use Passive FTP" checkbox checked. However, if you have connection problems, you may want to try unchecking it (whether it's required or not depends on your own computer's network settings; it usually is).
If you have trouble related to SSL encryption, you can try choosing FTP instead of "FTPS" as the "Connection Type".
Can I use the "FrontPage Server Extensions" connection method?
No, you shouldn't use FrontPage Server Extensions. Microsoft no longer recommends it and we no longer support it. Use the "FTPS" connection method shown above, or the "FTP" method if you have trouble with FTPS.