Why did some of my WordPress posts, pages or images disappear?
We occasionally hear from customers who use WordPress and report that many of their posts, pages or images suddenly disappeared.
This can happen if you aren't very careful when you delete the WordPress "user" that created the posts or pages, or uploaded the images.
When you delete a user, WordPress asks a question that looks like this: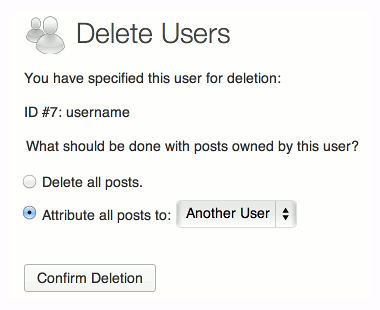 If you choose "Delete all posts", WordPress will delete everything the user created on your site (including page and uploaded Media Library items, too, even though it doesn't explicitly say so).
You don't want to do that. Always choose Attribute all posts to another user instead.
What if I've already deleted them by mistake?
Unfortunately, the only way to fix this is to restore the previous version of the database, and possibly uploaded files, from a backup. We can help you with that if necessary.