Windows 10 Mail
Follow the instructions below to set up the Windows 10 "Mail" program to send and receive email for a mailbox that you've created.
1. Start Mail
Start the Windows 10 Mail program by clicking the "Mail" tile from the Start button: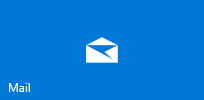 2. Find the "Add account" button
If you've never added an account to Windows 10 Mail before, you'll see an "Add account" button, and you can skip to step 3.
If you already have an account, you'll need to get to the settings panel. Click the three-line menu button in the top left: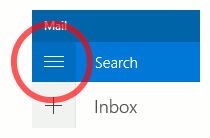 Then click the "gear" icon in the bottom left:

Then click Accounts under "Settings" on the right:
3. Click "Add account"
Click the Add account button:

4. Choose "Advanced Setup"
When the "Choose an account" panel appears, click Advanced Setup (you may need to scroll down to see this option):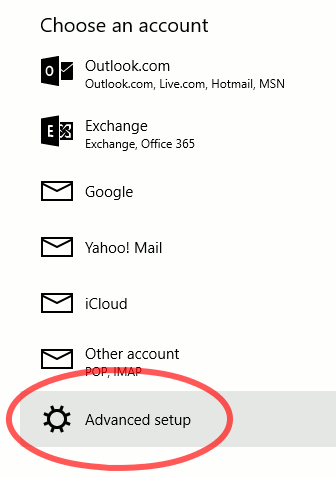 (Don't choose "Other account POP, IMAP" — it won't work. You need "Advanced setup".)
5. Choose the "Internet email" type
Windows 10 Mail will ask you what kind of account you want to setup. Click Internet email: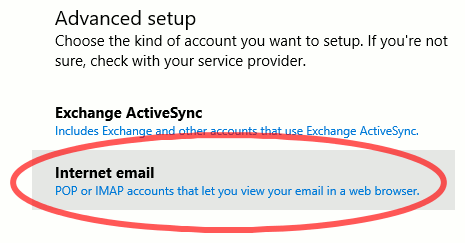 6. Enter your mail settings
You'll see the "Internet email account" settings window. Enter these settings:
| | |
| --- | --- |
| Account name: | your email address |
| Your name: | your real name (what other people see as the "From" name) |
| Incoming email server: | mail.tigertech.net |
| Account type: | IMAP4 |
| User name: | your email address (all lowercase) |
| Password: | your email password |
| Outgoing (SMTP) email server: | mail.tigertech.net |
Leave all four boxes checked. It should look like this: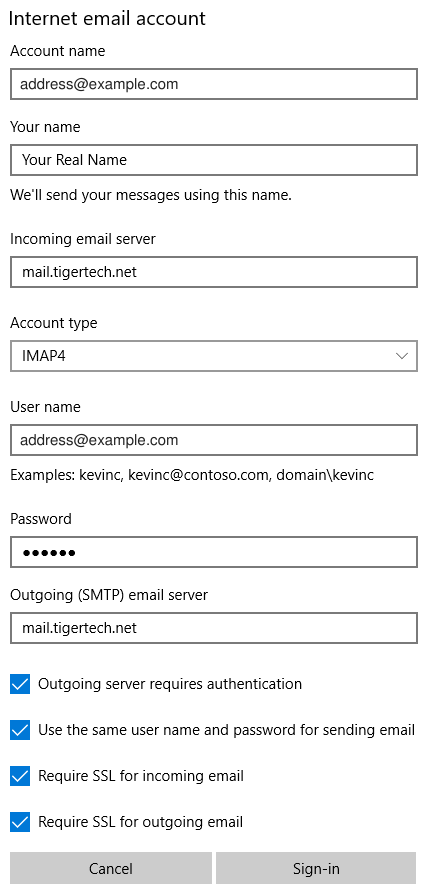 Then click Sign-in.
You're finished!
Windows 10 Mail should tell you that you're "all done":
Click the Done button.
You may then see a box with a Ready to go button: if so, click it to start using mail.