How do I make Apple Mail store messages in the Sent and Trash folders?
This page is for the macOS "Sierra" (2016) version of Apple Mail.
If you're using an older version of Apple Mail, such as the version included with Mac OS X "El Capitan" or "Yosemite", see Apple Mail Folders in "El Capitan" and Earlier instead.
After you've set up an IMAP account in Apple Mail on macOS, there's an additional step needed to to keep Mail folders in sync with other programs or devices that might connect to the mailbox.
By default, Apple Mail may not try to store sent or deleted messages on the server. It will try to store them on your Mac, and will sometimes show error messages when doing that, including an error complaining that a deleted message "could not be moved to the mailbox (null)".
To fix this problem, you can change the settings in Apple Mail to tell it to store messages in the right place on the server.
1. Start the Mail program.
If the Mail program isn't already running, start it now.
2. Open the "Preferences" window.
Using the menu bar at the top of the screen, click Mail, then Preferences: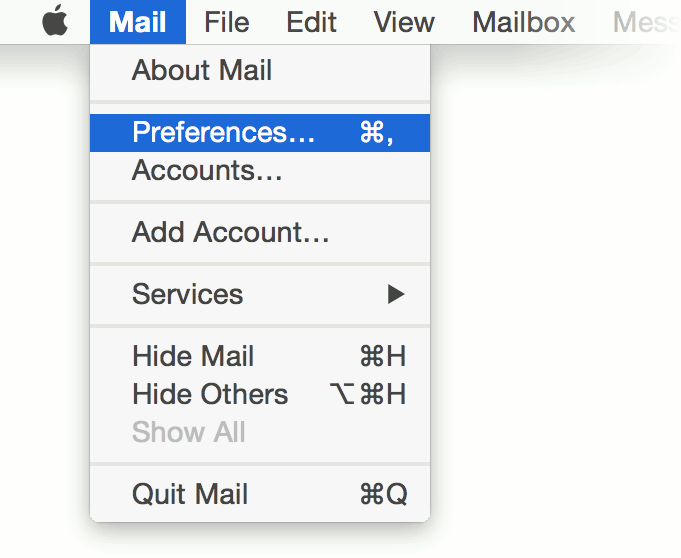 The preferences window will appear.
3. Choose the "Mailbox Behaviors" screen.
Navigate to the "Mailbox Behaviors" screen. To do this:
Click Accounts (the blue "@" sign) along the top of the window if necessary.
Click the address@example.com account in the left "Accounts" column if necessary.
Click Mailbox Behaviors.
4. Change the folder settings.
You want to choose these folders on the server:
| | |
| --- | --- |
| Drafts Mailbox: | Drafts |
| Sent Mailbox: | Sent |
| Trash Mailbox: | Trash |
(The "Junk"and "Archive" folders can be set to anything you want.)
After you choose these, they may show with the extra word "INBOX" in front of them, like this:
| | |
| --- | --- |
| Drafts Mailbox: | INBOX/Drafts |
| Sent Mailbox: | INBOX/Sent |
| Trash Mailbox: | INBOX/Trash |
If so, that's normal and okay.
It should look like this: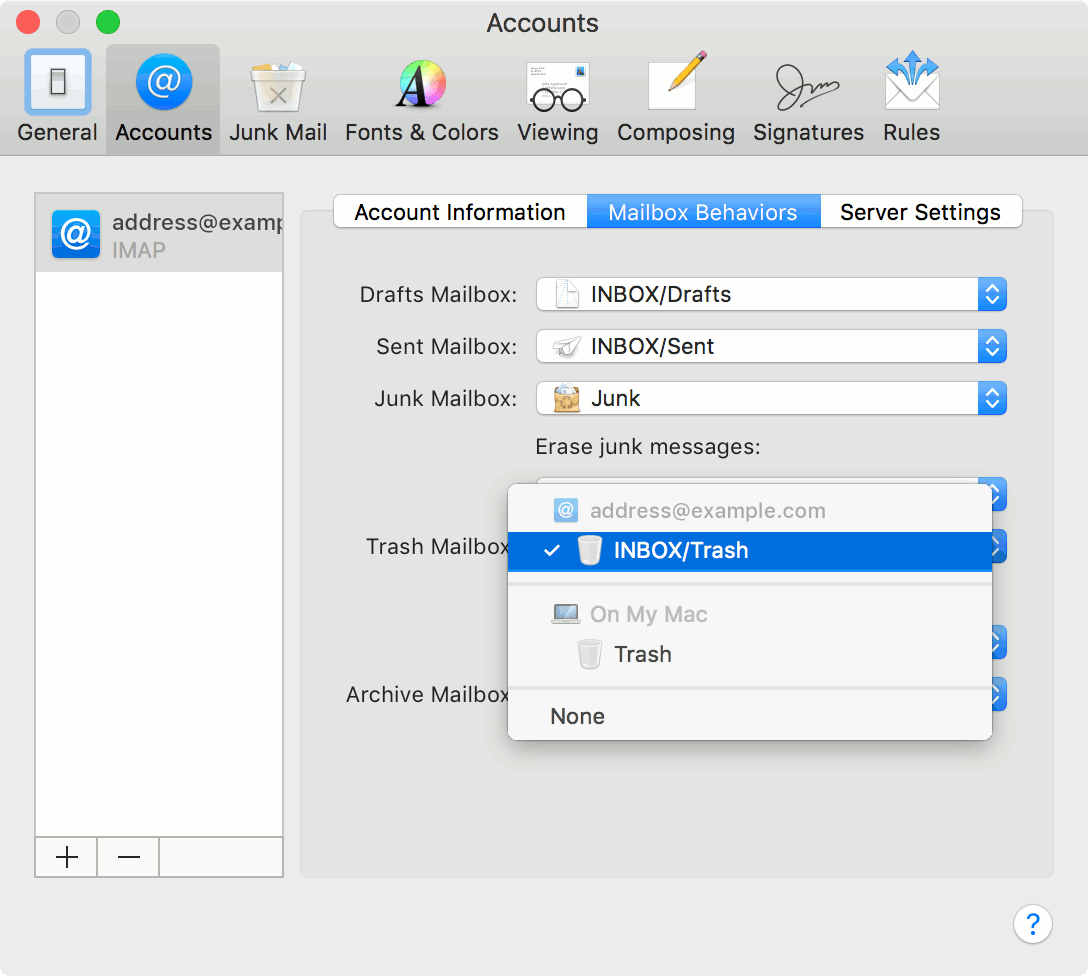 Again, the word "INBOX" may or may not appear, depending on your version of Apple Mail.
5. Close the settings window.
If everything looks okay, click the red close button in the upper-left corner of the Accounts window.